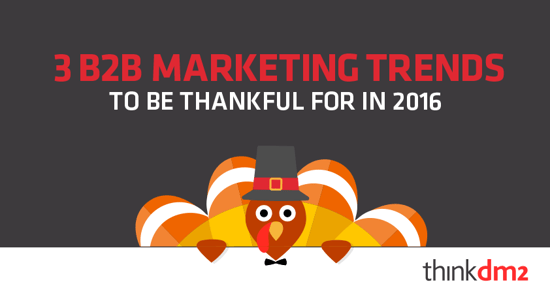 As the end of 2015 draws near, it is important to begin preparing for what's ahead in 2016. New B2B marketing trends are anticipated along with the resurgence of some previous trends. This week marks Thanksgiving, a time to express gratitude and be thankful for everything; especially the trends that will make marketer's lives a little easier after the holidays.
3 B2B trends to be thankful for in 2016:
Email marketing isn't going anywhere.
Count your blessings. Those email campaigns are still the most successful way to reach your audiences. According to the Search Engine Journal, lightboxes (the pop-up on a web page that prompts a newsletter sign-up) are the best way to get your lists growing quickly. Additionally, emails formatted for mobile, personalization and tracking consistently to measure true success can be expected to increase next year.
Customer service/referral marketing is on the rise.
How you treat your customers will determine future business opportunities with their contacts. Business 2 Community, a marketing publication said, "B2B marketers tend to focus a lot of time and effort on the pre-purchase end of the customer journey. But increasingly, firms are realizing success by also concentrating their efforts on providing value beyond the sale, with the aim of turning a client into a promoter — an advocate who is willing to refer people to and provide references for your business."
Mobile usage is still increasing rapidly.
Think about the new advancements that continue to be offered to the public like smart watches; just another way to look at your company. According to the CMO Council, a global network of top marketers, it was predicted in June 2015 that mobile is expected to overtake desktop for US search ad dollars this year, rising from $8.72 billion to $12.85 billion—just slightly above desktop's $12.82 billion. At the same time, there will be 156.4 million mobile phone search users in the US, representing 49.0% of the population." So that investment in your mobile website was well worth it!
Make sure your website is fully optimized and ready to take on 2016 with our Website Marketing Grader.