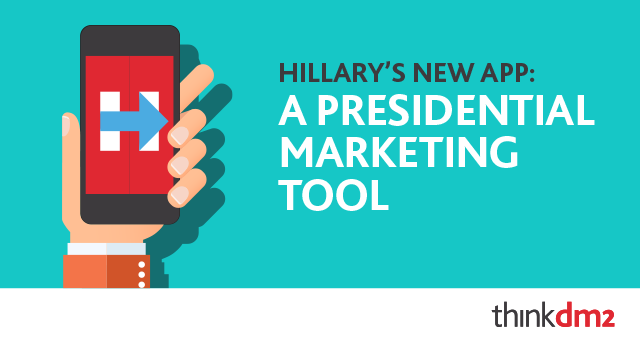 We are familiar with mobile apps, especially ones that involve people running around to catch virtual creatures, but Hillary Clinton is joining in on the fun. The democratic nominee has taken her brand to the next level by introducing her own campaigning app that is available for free download. Here at thinkDM2, we aren't picking sides, but we recognize an intelligent marketing strategy when we see one. The Hillary 2016 app has 1,335 ratings while earning 4 ½ stars on the Apple App Store since it was introduced July 24th. Keeping an open mind, we have to give Hillary some credit for her mobile app.
Educating People by Mobile Application
Politics aren't always fun, which is why we believe Hillary included quizzes inside of her app. Completing quizzes in the game not only earns you in-app currency, but it actually informs users about real-world problems. This is effective for any organization that wishes to market their brand, especially when implementing an inbound marketing strategy. Some questions are unbiased, but this game has "left-winged" influenced topics that generate "Trump or False" questions that bash the republican nominee. We can call it "unnecessary" or even "childish," but we believe this is how Hillary stays competitive. So far she is promoting her brand by educating the app's users while staying ambitious during this fierce presidential race.
Nothing New, But a Differentiator
The app market has multitudes of downloadable content, but what is separating this app from the others. Aside from being a game for people to play, it hosts the ability to stay connected, in and out of the mobile realm. According to fastcodesign.com, the app notifies its users when local events are coming up. Events such as canvassing and phone banks are optional for its users. Running parallel with local events, the game developers can be expected to enhance the involvement of users by allowing players to win stars from doing other activities like tweeting and sharing the democratic nominee's content. Whichever route your organization is heading, providing an interface that gets users involved is a plus.
Hillary's Brand Development: App Marketing
It is time for your business to wake up and smell the bacon. Branding is the forefront to any successful company. When looking into the upcoming presidential election, social media keeps the Clinton and Trump supporters up-to-date, but what's to do from there? Sure, we have seen apps developed by politicians, but nothing like Hillary's. Bringing in highly experienced product managers with experience in app development, a highly interactive app was born to aid her campaign as a marketing tool for the Hillary Clinton brand. Your inbound marketing tactics such as developing a social media presence or even blogging about your industry can be helpful, but it may be time to expand the ways your brand connects with the world.
Want to see if your brand represents you? Click the button beneath to see if your current branding reflects your organization effectively.

---