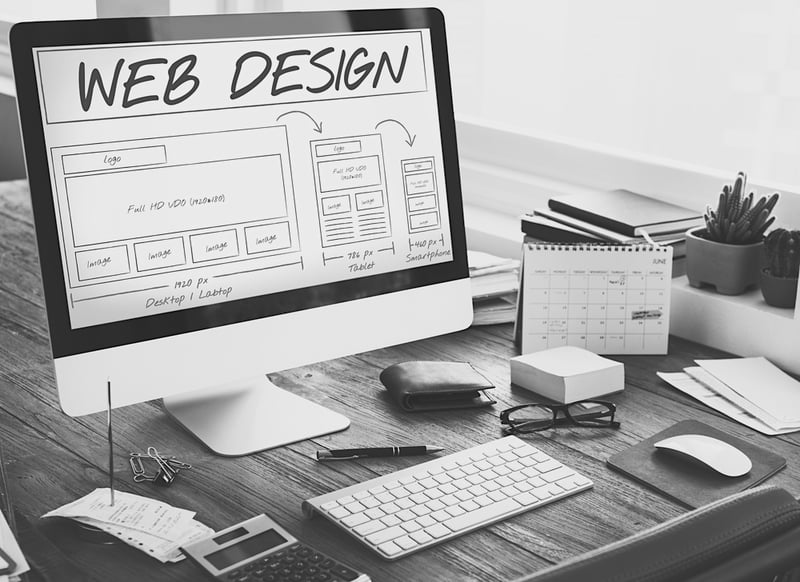 image credit: Rawpixel.com/shutterstock.com
Your b2b website design plays a vital role in attracting users or turning them away from your company. To keep up with the rapidly changing digital marketing industry, you should feel confident in knowing that your website is up-to-date with current design trends.
Here are a few tips on how to design a website that will engage your users and allow your company to continue to compete with other b2b businesses in 2019.
1. Keep your website design minimalistic
Having a simple, yet appealing, design is key in the b2b digital marketing industry today. Too many pictures, words, or colors on one page could create clutter and divert visitors from the important aspects of your website. Users come to your website for a reason, and they want their experience to be uncomplicated.
Create a straightforward website design by using a creative color scheme, relevant images, and basic shapes to attract, instead of distract, visitors. Make sure that these features represent your brand. In order to do so, choose colors and shapes that correspond with your logos. In addition, you will also want your CTAs to be an appropriate color that will stand out. As a result, visitors' eyes will be drawn to the CTA as soon as they arrive on the page.

2. Integrate video with your website
Videos have become a useful tool to captivate users when viewing a website. Including videos that are a few minutes in length are great additions to websites. The use of applicable videos can deliver information faster than text, decrease word clutter, and lure visitors' attention to the page. In fact, users are more likely to spend a greater amount of time on websites with video than on websites without. As a result, the longer that users are on your site, the better the chance that your conversion rate will increase.

3. Use relevant and noticeable call-to-actions
Call-to-actions should give your visitors that extra push to subscribe to your blog, sign up for your service, or simply dive deeper into your website. CTAs should be placed in a convenient spot on your website with a phrase and design that fits your theme and brand.

Effective CTAs are the beginning of conversion paths, as well as part of the buyer's journey. To grab users' attention, you could use a pop-up CTA. These types of CTAs are useful because they allow the users to immediately decide whether or not they want to comply with the CTA. Pop-up CTAs can be set to display based on the following factors:
After a certain amount of time a user is on your page.
After a user scrolls down the page.

When a user intends to exit the page.
4. Optimize your website for mobile
Users rely on their mobile devices for information now more than ever. The majority of users will visit your site from a mobile device, so it is crucial that the design of your website is accessible through any device. If your b2b website is not easily attainable through mobile devices, you are risking a significant loss of website traffic. Some features that you need to consider when creating a mobile optimized website are:
Image and video responsiveness

Size of text

Clickable drop-down menus and buttons

Loading speed
If you want a quick and detailed check to see if your website is accessible through mobile devices, you can use Google's "mobile-friendly test" to see which aspects of your website need to be updated.
Using these tips to begin your b2b website design and development will improve the overall quality and appearance of your site. Some of Thinkdm2's service include website development and design services for b2b companies. To help keep your website fully optimized to generate leads, you'll want to download our new eBook to learn how you can enhance your SEO and content strategy.