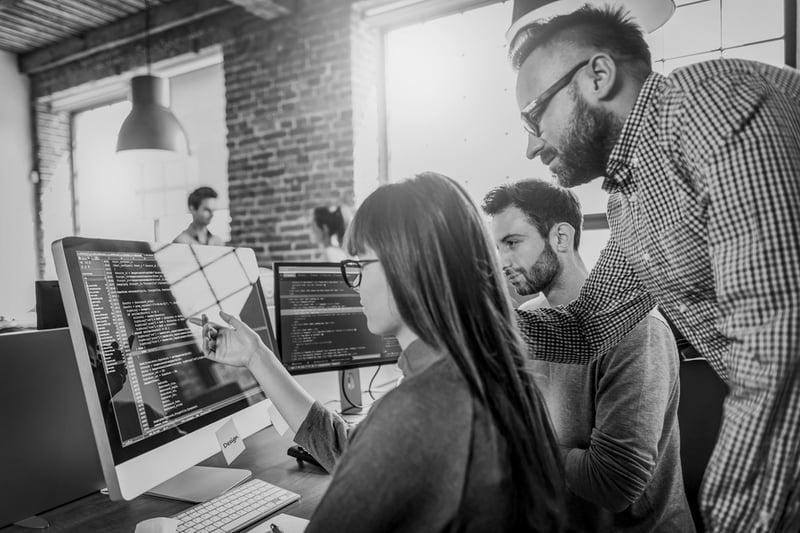 image credit: REDPIXEL.PL/shutterstock.com
Behind every company is a brand, and behind that brand is most likely a website. In the digital age, it's so easy for a new prospect to search for your company online and instantly be taken to your website. First impressions can be a huge hit or miss. Whether it's from bloated copy, a mismatched color scheme, or general lack of spacing and organization—your website can struggle as a result.
To ensure your company isn't making these design and accessibility mistakes, here's what to look for when you're reviewing your website.

Does your website have an SSL certificate?
When you visit a new website, have you ever noticed a small lock icon to the left of the URL in your browser? This indicates that the website's connection is secure, which means that data you share with the server is protected from possible cyber attacks. Having a secure website helps search engines recognize your website as credible and trustworthy—allowing for increased ranking potential.
It can be difficult to trust a website when it has the words "Not Secure" beside it (it may even display in red text, for twice the scare!) This is why it's more than worthwhile to purchase an SSL certificate for your website.


Is your company's website ADA compliant?
You may not realize it, but your company could be neglecting critical ADA compliancy regulations. Failure to properly follow these regulations can lead to potential lawsuits for your company. So what do you need to know about being ADA compliant?
Essentially, ADA compliancy means that anyone who visits your website can still properly navigate it, regardless of any disability or impairment they may have. It ensures your website is accessible to everyone. Some quick areas to look into with your website include the following:
Is a visitor able to navigate your website without the need for a computer mouse?

Does your website offer audio support for those with visual impairments?

Do your videos provide the option to use subtitles?

Are you using a font size that's between 12-14 point?
For more information about ADA compliancy regulation, please read our blog post!


Is Your Company sacrificing loading speeds for a fancy website design?
Imagine inviting your friends and neighbors over for a party at your house. You've got all your food prepared; plenty of drinks; maybe a few boardgames; and all your invitations have been received and responded to. You're all ready for an amazing party! But then you look at your living room or kitchen and come to a startling realization: you've invited 40+ people over, yet you only have enough chairs and space for 12 max!
This is what it's like when you neglect a fundamental aspect of your website—spacing. Everyone wants their website to stand out and "wow" their visitors, but if your website is consistently failing to load—or even just taking longer than 3 seconds—there is no doubt an underlying problem that's causing this issue. The way you house your website's content, images, and videos is crucial to its load times. Here are a few ways you can scale down on your website's clutter:
Using smaller video sizes.

Keeping animation light and avoiding it in areas where there is a lot of surrounding text or images.

Keep your website's navigation simple and logical. Too many links thrown about will only cause confusion for visitors.

Making designated landing pages separate from other webpages, to prevent information overload.


Have you built a strong website architecture for your content and links?
Much has been said about the necessity of topic clusters to keep content organized and search engines happy. While it's true that these clusters are beneficial for SEO purposes, they also encourage you to regularly check the links on your website.
If you were to go back to old content pieces from 2014 or so, odds are you'd notice a number of links to webpages that are no longer active—whether it's outside websites or even your own webpages that were since deleted! For example, a common SEO recommendation is to unpublish old, underperforming blog posts. However, you'll want to be sure that you've removed existing links to that page as well, to prevent inactive links on your website.


Your website plays a huge role in promoting your company, brand, and credibility. If your company is looking for additional strategies to enhance its website design, thinkdm2 can offer guidance. We're an experienced b2b digital marketing agency from New Jersey, with a talent for website design and development.
To enhance your website's architecture and link building, download our Topic Clusters eBook, and learn how to boost your website's SEO as a result!