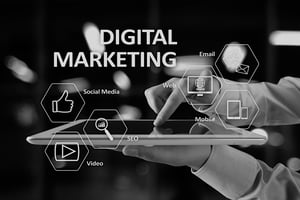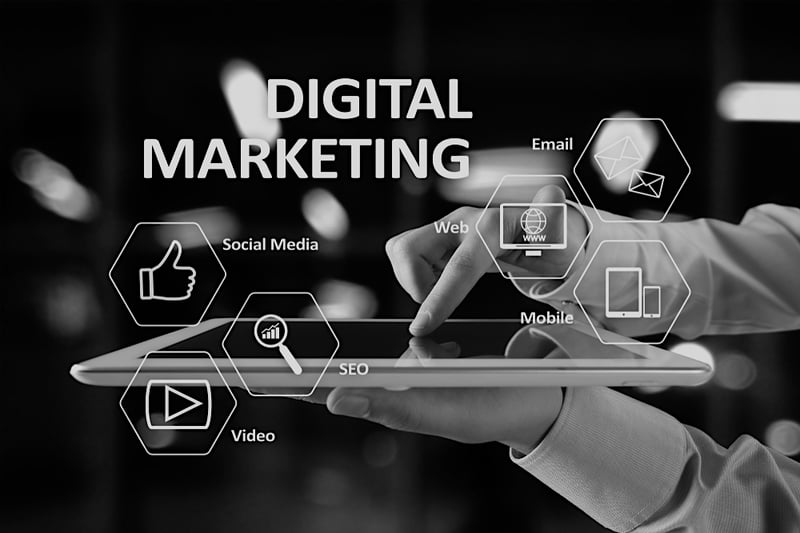 image credit: Wright Studio/shutterstock.com
It's hard to believe that we've almost reached a new decade. With 2020 looming over the horizon, there are plenty of thoughts to consider about the state of digital marketing. Each new year always manages to bring a few surprises to the digital marketing landscape (remember when HubSpot helped destroy the sales funnel last year?) So as we make our way through the last weeks of the summer, let's take a look ahead at digital marketing in 2020.



More digital marketers are going to be introducing chatbot support
It seems like everybody is making use of chat support on their websites these days—and it makes sense when you realize just how smart chatbots can be. Sure, there will always be concern over machines replacing people's jobs, but it doesn't look like that's happening in digital marketing. Instead, chatbot support will add another level of personalization to a visitor's website browsing.
With the data that a chatbot gathers, it will be able to sort through that information and provide recommendations to the user (such as additional content to view or downloads) Alternatively, chatbots can pass a user along to a live chat, for additional assistance.


Microblogging could be a bigger trend for Digital Marketing
When you hear the term "microblogging," you may instantly think of websites like Tumblr or Twitter (or maybe you picture a tiny blog for ants.) It's a term that has perhaps become a bit outdated, but its relevancy remains. Microblogging gives content creators the opportunity to share personal updates, stories, and opinions to a large audience much faster than a traditional blog.
Some of the most popular and easily digestible content comes in the form of lists. Whether you're sharing a top 5 best digital marketing strategies or even a quick checklist of 3 steps to take before sending an email, lists are a simple, convenient way to covey information; they also work perfectly for microblogs! If your company can regularly publish microblog-style content to your social media pages, it acts as an additional method to boost your brand's reach.



Video marketing won't be losing its steam in 2020
Yes, video remains a popular format for content consumption. No, this doesn't mean everyone should jump right into marketing with video over traditional writing and blogging. Given the higher production values of video these days—and rising expectations for 2020—there is a bit of a barrier to enter the video marketing space. It's recommended to spend some time researching for the types of video styles you may be interested in trying out. Some of these options may include:
Step-by-step, how-to videos

5 (or less) quick facts about a specific topic

A montage of recent trends set to music (just be sure you have the music rights sorted out before selecting a song!)

Sharing a story about a recent experience you've had as a digital marketer
Additionally, live video is a new trend for digital marketing that's gained momentum. Real-time interaction via live video allows marketers to engage with their audience in a way that feels more natural and direct. It also helps them feel more accustomed to your conversation style, body language, and ability to listen to what your audience has to say as well. These factors may not seem as vital in a phone call, but they sure make a lasting impression over live video.


These are just some of the many trends we can expect to see for digital marketing in 2020. As always, thinkdm2 is happy to share our thoughts on the current digital marketing landscape and what to expect in the future. For more of our insights, please feel free to check out our blog. You'll find additional content, including strategies for b2b branding, website development, lead generation, and more!