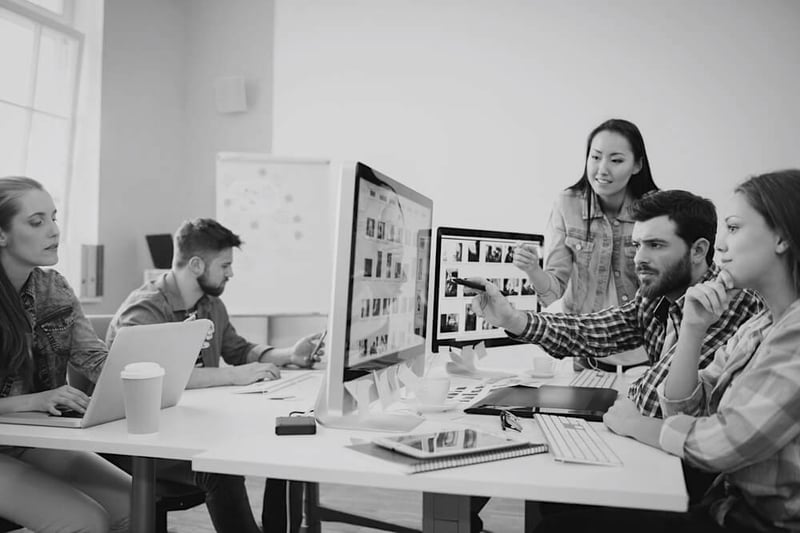 image credit: ESB Professional/shutterstock.com
Late last year, Pantone revealed that Classic Blue was their choice for the 2020 color of the year. This color was meant to reflect human spirit, resilience, and a warm sensation. Though some felt it was a safe pick, there's no denying the appealing, soothing nature of Classic Blue! We even shared our insights into this color choice back in January. In this post, we're taking a look at how Pantone's 2020 color of the year affects digital marketing.

Classic Blue helps evoke calmness during these difficult times
With the ongoing COVID-19 pandemic, it's been difficult to maintain past marketing strategies. In some cases, marketers are struggling to find the right voice to communicate with their audience—and this is understandable. Digital marketing companies that once had a powerful, commanding presence in the industry may now be second-guessing how their tone is construed at this time. Pantone's choice of Classic Blue was made prior to the pandemic, but its impact has become more clear throughout 2020 so far.
According to a 2018 color psychology report from CoSchedule1, the following stats were revealed around how people view the color blue:
34% believe that blue represents trust
20% see blue as high-quality
26% feel that blue represents security
43% associate blue with reliability
22% believe that blue represents courage
The color of the year can be implemented in both design and messaging
When put into the context of these uncertain times, CoSchedule's report certainly makes sense for marketers to consider. Marketers should embrace the soothing nature of Classic Blue and apply it to their messaging and overall branding approach. However, it's not a matter of tossing some blue into your digital marketing company's downloadable content pieces and webpages. You don't want to go too far off-brand, especially when it feels forced. Instead, it's best to implement Classic Blue in a more subtle manner if it doesn't fit into your company's brand guidelines. One design idea is to try using a Classic Blue tint on photos or graphic designs in your content pieces. The subtle hint of blue shouldn't deviate far from your existing branding but instead feel natural and pleasant to look at.
For messaging, consider the various adjectives that were referenced in CoSchedule's report—namely, trust, reliability, and courage. You want to reassure prospects and customers that you are here for them and can be by their side through any challenges in their way. This messaging can be used in a few locations, such as social media, email blasts to your company's existing contacts, or via a banner display on your website's home page. Some quick examples of how your digital marketing company may phrase its messaging can include the following:
"We're always behind you to help move you forward"
"Our dedication to you only grows stronger during these uncertain times"
"Your needs are always on our mind"
"We're here to answer your questions and concerns"

As we navigate through the rest of the year, it's important to remember the obstacles we've all overcome and the insights we've adopted along the way. If your company is still experiencing any difficulties during these uncertain times, please don't hesitate to reach out to us. At thinkdm2, we're determined to aid our clients and customers in any way we can and help keep their businesses moving forward. Thinkdm2 is a digital marketing and branding agency located in New Jersey. For over 30 years, we've delivered effective strategies to clients in the SaaS, IoT, and professional services industries.
---
1 Hauf, Ashton. "The Know It All Guide To Color Psychology In Marketing + The Best Hex Chart." CoSchedule Blog. Last Updated August 29, 2018. Retrieved September 11, 2020 from https://coschedule.com/blog/color-psychology-marketing/#words