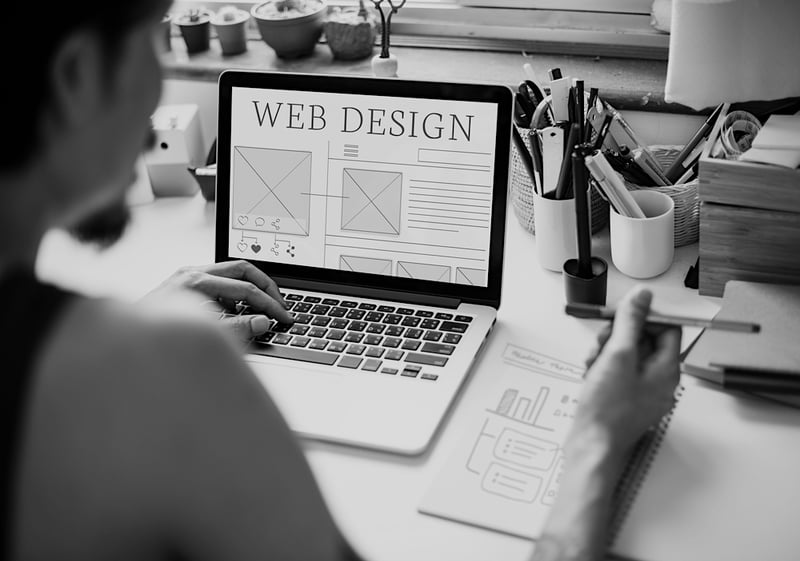 image credit: Rawpixel.com/shutterstock.com
For some marketers, updating their existing website is nothing more than a pipe dream—a goal so daunting that it may not seem worth the effort. However, you don't need to completely rebuild your entire website just to implement some new designs. More and more, we're seeing interactive design lead the way for stronger website engagement—from the start of a buyer's journey all the way through to the end. Marketers, here are three interactive design ideas you can integrate into your b2b marketing website.

Videos make for great interactive content for your b2b marketing website
Content plays a major role in marketing strategies these days—especially the content found on your website. While we're not suggesting to do away with static, text-based content altogether, recent stats may just turn your company on to video as well. According to HubSpot, nearly 25% of marketers are creating videos centered on their brand story, and an additional 25% of marketing videos are focused on product or service promotion. Likewise, other reports have shown that 97% of marketers believe that video has helped increase a user's understanding of a product or service—while 76% have found video has helped increase sales.
So what makes video so engaging for users?
Well, compared to static content, video provides a greater sense of interaction. With video, the user has the ability to pause when needed—without losing their place as they may in a lengthy blog post—and adjust the speed of the video to their preference. They can also adjust the volume or click CTA offers you may have placed in the video. Sure, these may not seem too noteworthy at a first glance, but even the smallest interactive details can boost the effectiveness of your content.

Animation can bring clickable content to life!
In addition to video, animation and moving images can provide your b2b marketing website with a stronger interactive experience. While you may look at animation and think of continuously moving images or shapes (or in some cases, GIFs) this isn't quite the case here. Instead, animation can act as a follow-up to the user making a desired action on your website. Check out these examples of how animation and moving imagery can bring an interactive design to your website:
Try including interactive slideshows on a webpage about your marketing company's brand story. Instead of simply scrolling down a page of text buckets, it's more engaging to have unique animations play as a user cycles through interactive slides. Not to mention, providing some colorful imagery and fonts can help spice up the content in your brand story as well.


Offer online quizzes that cycle through questions one-by-one. As the user selects their answer, a unique animation can play to transition them to the next question. For a b2b marketing company, quiz examples may include how a lead would rate their marketing strategy, how their strategy compares to the industry as a whole or assessing their knowledge of best practices (such as SEO, email marketing, or Inbound!)


Answer your audience with ease through chatbots—another interactive element for your b2b marketing website. These allow a user to engage with a customized bot that can answer their questions, provide suggestions, and lead them to your sales team.


Dynamic scrolling makes browsing your website an Engaging experience
One of the most important qualities of any website is the user experience. Your website needs to reel in potential leads with a few key aspects—most notably, your website's level of engagement. If you can encourage visitors to continue browsing your website, you have more opportunities to lead them further through their buyer journey. Dynamic scrolling is a popular web design trend in 2020. Some examples of this include:
Adding animation in the foreground and background of your website. Some websites will adjust the speed of scrolling in the background compared to the foreground, to help create a unique visual effect.


Implementing moving images in the background of your webpage. Even subtle moving shapes or wave effects can be an appealing addition to your website's design.


Popping in images and headlines as the user scrolls. This is an interesting example in particular. While the user isn't actually clicking across the webpage, content still appears to them as they scroll—resulting in an experience that still feels interactive based on their input.


With these interactive design ideas in mind, you can craft a compelling user experience on your b2b marketing website. Looking for additional strategies and insights for your website, such as how to increase website engagement? Feel free to contact thinkdm2 today at (201) 840-8910. Thinkdm2 is a b2b digital marketing and branding agency with a passion for inspiring designs and compelling user experiences. Let us know how we can help with your website's design and content!