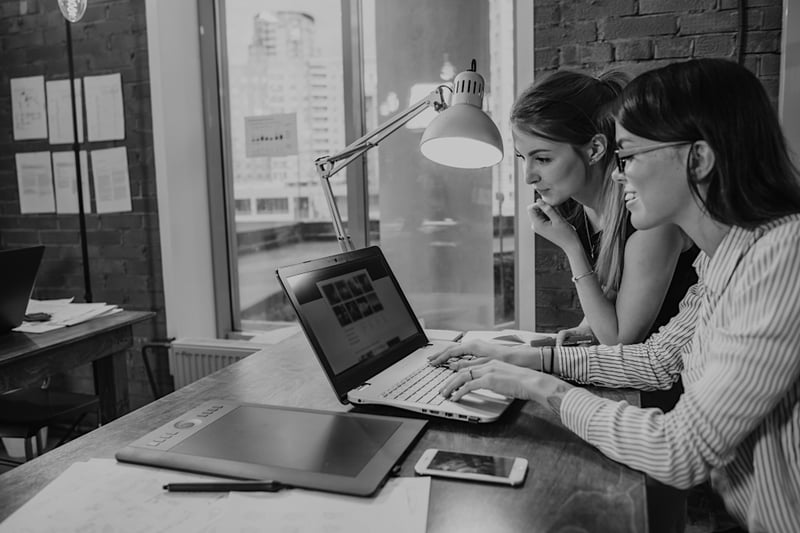 image credit: Undrey/shutterstock.com
Welcome to a new year of digital marketing—and a new decade altogether! What better way to kick off 2020 than with a few new year's resolutions? Web design is one of the top areas of focus for digital marketing; your website houses your company's content, branding, and overall messaging. Let's set some web design resolutions, together, to ensure your digital marketing website can attract, engage, and convert in 2020.



Resolution #1: Increase website Traffic from Organic Search
Strategy: Design your webpages with SEO in mind
Simply making a resolution to "increase organic traffic" won't give you the actionable tasks you need to make it possible. Without a strong SEO strategy for your website, your organic traffic isn't going to improve. Here are two big SEO takeaways your digital marketing company will need to implement in 2020:
Set up your topic clusters, and get your content linked! We really can't stress this enough. If your website content isn't properly connected and stemming from a powerful pillar page, search engines will neglect you. The strongest pillar pages are around 2,000 words and break down a specific topic into several subtopics (or for "how to" pages, these can act as steps).



Optimize for mobile. For digital marketing websites, a "mobile-first" approach is a must. This is a simpler strategy than focusing on desktop screens and working backwards. Instead of only testing the user experience of your website on a laptop or desktop screen, you need to analyze the navigation, loading time, and image rendering through a mobile device. Pull out your phone, and take note of any webpages that feel disjointed on a small screen, whether it's a result of too much copy clutter, image sizing issues, or links that are difficult to tap from a touch screen.



Resolution #2: Engage more mobile users on your website
Strategy: Incorporate a minimalist web design approach for your navigation
An easy-to-navigate website is great for any device, but it's the mobile users that will be the most satisfied with a minimalist design approach. At the beginning of the year, G2 shared some interesting statistics about mobile web design—and it's clear that mobile users have little tolerance for poor website navigation. After making a search, around 40% of users will change their query if the first search result isn't a mobile-friendly website. Additionally, 48% of users believe if a website isn't mobile-friendly, it's a sign that the company doesn't care enough.
If your website isn't mobile-friendly, you're losing a significant portion of your audience and sending the wrong message to potential new leads. To increase website engagement, a minimalist approach will not only make navigation easier for mobile users but also provide greater structure overall. Ideally, your main navigation should consist of around 5 webpage links. For digital marketing companies, this will likely include the following:
About Page

Case studies/previous work page

Services page

Contact Page

Resources (such as a blog or downloadable content pieces)



Resolution #3: Convert more visitors into leads
Strategy: Design compelling, value-driven calls-to-action for your website
This last resolution is more of a two-in-one goal. In order to provide more calls-to-action (CTAs) on your website, you first need to produce valuable, downloadable content. A CTA can come in a variety of content offers such as an eBook (or as some companies prefer to call, "playbooks"), white papers, webinars, and infographics. Of course, supplying all these offers is much easier said than done.
To help your digital marketing team plan out its CTA offers, start with an outline of what you want to accomplish and the target audience. For example, you want to focus on a specific pain point that one of your buyer personas is experiencing. In the digital marketing industry, this could range from challenges with content development, brand messaging, or, much like in this blog post, web design! With a specific topic chosen, you will then be able to develop a content campaign.
Selecting which content types to create will depend on what your want to accomplish for each piece. While an infographic is best used for visual representation with minimal copy, more in-depth content pieces, such as a playbook, will require plenty of brainstorming and research. In the end, you'll have a number of content offers to share as CTAs on your website. The next step will be where to place them.
Much like the copy on your website, a CTA needs to be free from clutter; it should be properly placed where a user can easily locate and click it. The overall design of your CTA should be colorful enough that it stands out but not to the point where it contrasts with the rest of the webpage. Using simple text links is fine within copy, but for most CTAs, you'll want to design a unique banner image to further entice a user to click.


There's no need to feel intimidated by a new year's resolution. They can be challenging, for sure, but the effort you put into them will be more than worth it. If you're looking for some additional web design strategies, you can check out thinkdm2's blog. Thinkdm2 is a New Jersey digital marketing and branding agency that specializes in web design and brand development for technology companies. Let us know if you have any questions for us!