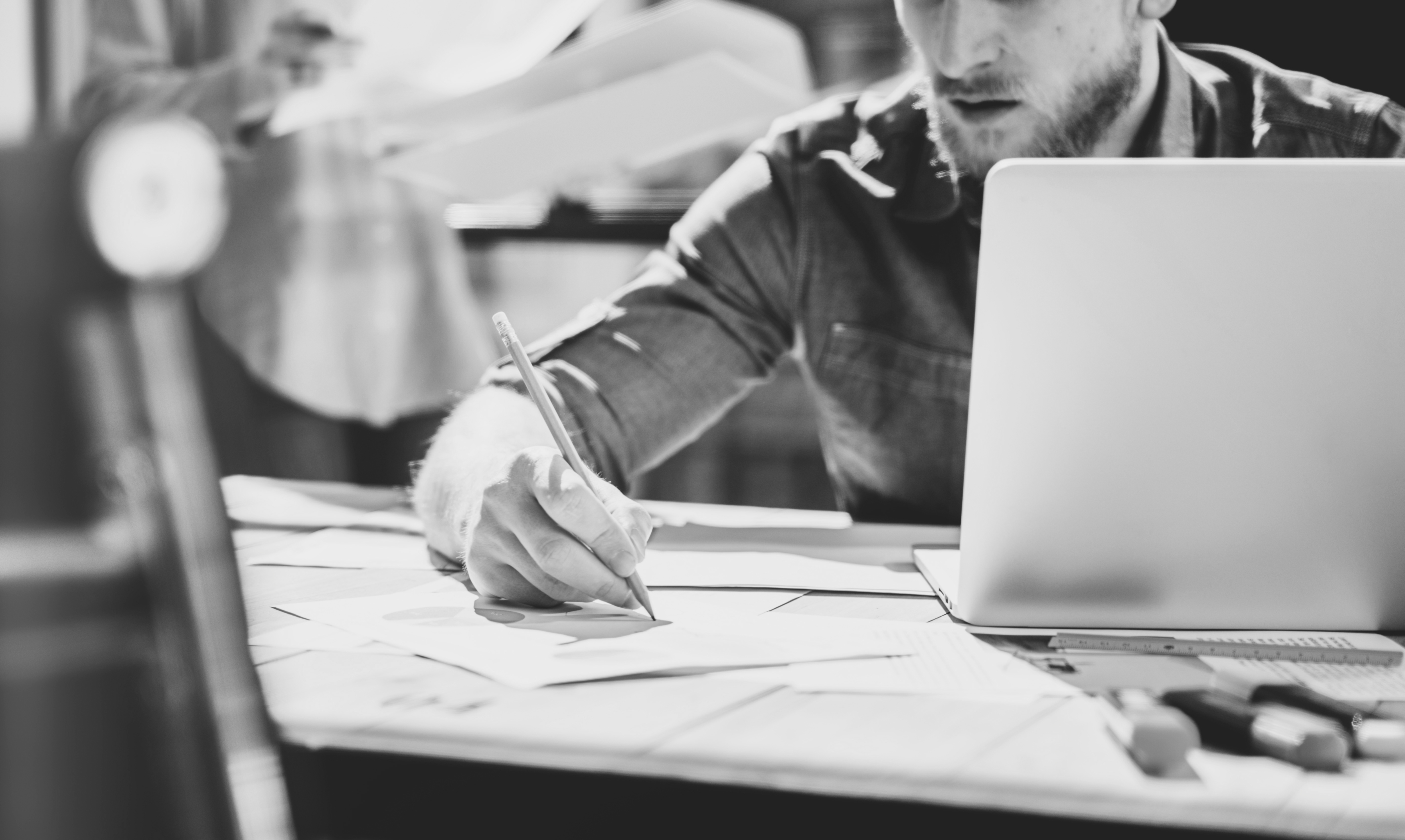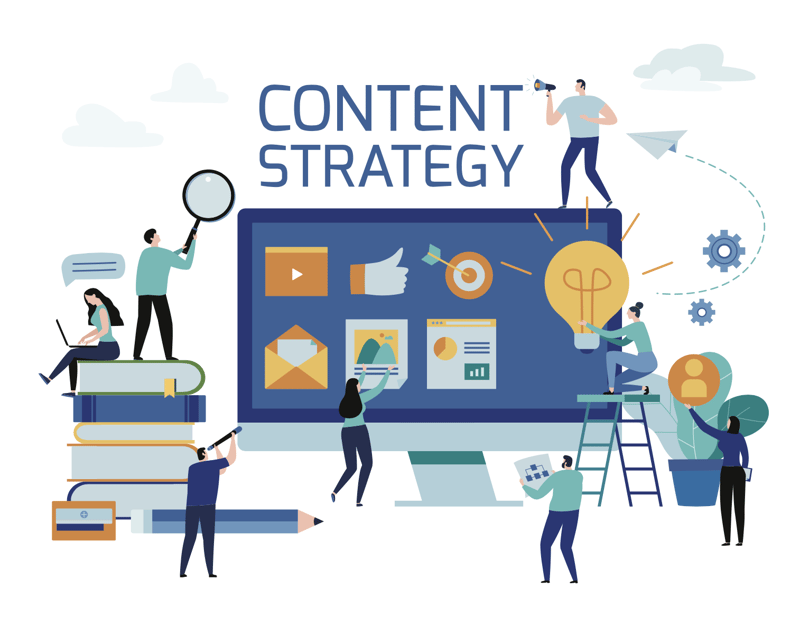 image credit: g/pisanu+prasoetphol/shutterstock.com
A content strategy takes a lot of work to perfect, as there are many aspects involved. If you have not read part 1 of this blog, we recommend you do before continuing to part 2. In part 1 of this blog, we talked about the first 4 important factors for building and applying a content marketing strategy for your business. Keep reading to learn more!
1. Content marketing metrics
Metrics play an important role in content marketing. Tracking and measuring your content over time is the only way to know how effective it is and to know when you need to update it or make improvements.
Here are some key performance indicators (KPIs) that are helpful in measuring and determining the performance of your content.
Pageviews: this tells you what audience is interested in the website and how well the website pages are optimized for gaining traffic. It also tells you more about your content engagement on your website and which pages get the most.
Organic sessions: this tells you if your content is being found by people who are just searching for answers and wind up on your page, but who did not intend to do so.
Ranking keywords: keyword ranking is important because it helps your content be seen more and rank high on search engines. This can help your web pages rank higher than your competitors and help you gain more business.
Subscriptions: Checking in on your email subscriptions or even subscriptions to your blog posts or newsletters will let you know who is interested in your content and wants to see more and will give you a better understanding of your audience. Subscriptions to YouTube are also a great way to measure your video content.
Downloads: this can be used to track podcast downloads, ebook downloads, or any other downloadable content. Downloads are important to measure because they can show you how many people are interested in your content and they can also possibly share the download with other people. If one podcast has the highest number of downloads, that shows you it is the most popular and most effective. This can help you when creating more successful content in the future.
Likes and comments: these are great ways to measure engagement with your content. The comment section will allow you to gain an understanding of what people are thinking about your content and if they like it or don't like it. This can also give you inspiration for what content to provide next. People will most likely leave questions in the comments, which you can answer by providing more content.
Views: views are considered a vanity metric. Views can tell you a lot of things about your continent. If you get a lot of views, but little engagement, that might mean you did a great job attracting your audience and getting them to check out your content, but maybe the actual content is not providing the value that they are looking for.
2. how to come up with awesome content ideas
Coming up with content ideas can be challenging! One easy way to spark new content ideas is to find out what questions people are asking about your industry and try to provide content that answers these questions. Use things like Quora, Reddit, or Facebook Groups to see what your audience is asking and what they are looking for, and then create content that will address these questions and concerns.
3. create effective content consistently
Your content needs to be interesting and captivating in order to be effective. Here are some ways to do so:
Create a content calendar
By creating a content calendar you will create brand consistency by scheduling and posting your content on a regular schedule. This will allow your audience to know when to expect new content from you. You can also have more specific plans of what type of content you are posting and when. This strategic posting style will prevent gaps in content or overload your audience with content by posting too frequently.
Create a style guide
Give your brand a voice by creating content that matches. All content should have the same voice, tone, and style. You can ensure this by creating a style guide that everyone must follow when creating content. The style should match however you want your brand to be represented. If you have company colors, make sure to use those as well! Some things to focus on in your style guide include grammar, voice, tone, style, personality, things to avoid, design, and use of specific industry words. An effective style guide will keep the brand voice consistent and make all of the content feel cohesive.
Repurpose content
Repurposing content is when you reuse elements of existing content. This helps you get the most out of what you have already created. In addition, it helps create content faster and make connections between your content. Some examples of repurposing content include:
Taking an existing blog article and applying it to a different buyer persona
Taking an older piece of content and pulling out soundbites that are still relevant to share on social media
Taking a piece of content and turning the facts and stats into an infographic
Turning webinars into blog posts
4. how to monetize and distribute content
Once your content creation is complete, the work is not done yet. Now it is time to develop a distribution strategy that will get your content out to the right audience and will increase traffic and brand awareness as well. Some options for promoting your content include:
Social Media: Building conversions with your audience is one of social media's greatest strengths! It also allows you to reach a lot of people who may fit into your audience. Most content that goes viral does so on social media since it is so easy to share content on the platforms. There are many different ways to share content on social media. Here are some specific social media promotion tips:
Target specific people with mentions and tagging
Cross-post, but change up the messaging for each platform
Tag relevant businesses/ people when you can
Interact and engage with your audiences on social media
On Your Blog: Attaching other content to your blog is a great way to spread content to different audiences. Articles, brochures, eBooks, and more can be posted on your blog. These should be relevant to the information in the blog too. Here are some tips when it comes to promoting content on your blog:
Update outdated or irrelevant information
Promote guest post content
Write a roundup
Paid Ads: Some content promotion can be paid for. For example, display ads are paid ads that will help more people see your content. It is beneficial to explore paid ads, as it is easier to target who will see your ad and content. Some tips for creating paid ads to help promote your content include:
Using high-ranking keywords
Setting a budget per month or quarter
Deciding who your target audience is
Creating compelling ad copy
Driving traffic to a landing page first for more engagement
There are many ways to promote your content, and it is necessary to do so as it builds brand recognition, allows you to engage with audiences, and makes it easier for your content to be shared.
5. content marketing tools to try out
There are many content marketing tools that will help you create the best content you can. Thinkdm2 knows how to utilize these tools to make the content creation process easy. Here are some tools we recommend using:
SEMrush
Google Analytics
HubSpot
Foleon
Grammarly
6. content marketing takeaways
Some key takeaways when it comes to content marketing are to:
Be patient
Educate
Don't procrastinate
Provide value
After reading this guide you should have a better idea of building and applying a content marketing strategy. It is clear that there are many elements that go into the process of content creation and it can be challenging. Contact Thinkdm2 for help with your content marketing strategy and to create the most effective content for your company.
Sources: Foleon.com