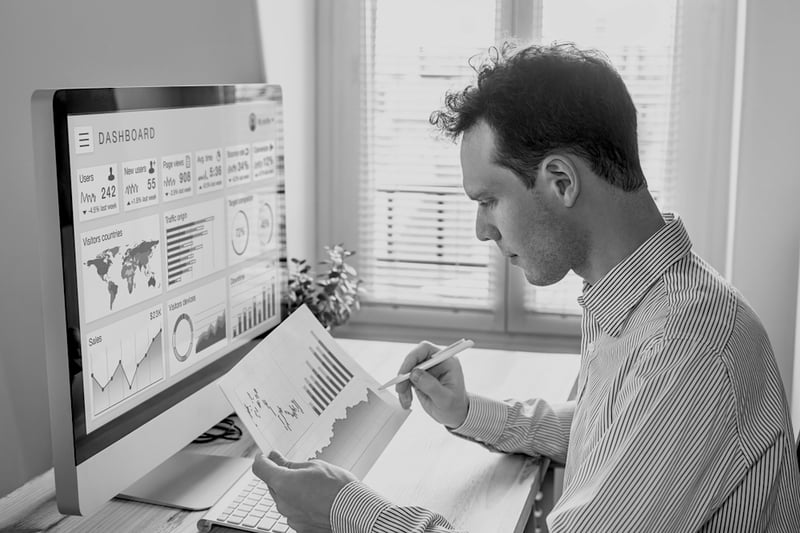 image credit: NicoElNino/shutterstock.com
With April coming to an end, we're finding ourselves entering a new month of rethinking our marketing and sales strategies during COVID-19. In the midst of remote working and social distancing, there have been notable effects on marketing and sales metrics throughout April. Marketing influencers like HubSpot have provided weekly updates on the state of the industry, with data related to email marketing, website traffic, and lead conversions.
Here is a roundup of the most notable effects COVID-19 has had on marketing and sales metrics.

Sales deals have seen a noteworthy increase this past week
Though it's too soon to tell how this trend will continue through May, HubSpot has reported that closed deals have increased by 9% during the week of April 20th. This may not be up to the standard of pre-COVID-19 stats, but it's certainly an improvement since March. Additionally, while email remains a struggling area for sales teams when it comes to converting prospects, there have been more meetings booked now than before COVID-19. With no way to conduct business in person, sales teams are relying on virtual meetings to transition their leads down the sales pipeline.


Marketing content engagement hit an all-time high this month
If you've ever doubted the phrase "content is king," now is the time to take a step back and reevaluate! From an email marketing standpoint, open rates have increased by 25% greater than before COVID-19, which correlates with a 25% higher volume of emails sent. In terms of sales emails, performance has improved by over 60% higher than pre-COVID-19 averages.
During COVID-19, educational content has become a top source of engagement, especially when it comes to blogs and online video lessons. Educational content builds trust in your leads, provides value to them and can meet their specific needs during this time. In return, education pieces can lead to a higher lead-to-close ratio. HubSpot has broken down educational content development into a few focus areas:
Informing the user where they are heading (in other words, what will they gain with this knowledge?)

Providing necessary frameworks and methodologies

Presenting them with facts to back up the information you're sharing

Sharing specific examples that your audience can easily understand and even relate to

Website traffic growth is slower but within range of pre-COVID-19 metrics
Website traffic is an area that marketers have likely seen some trends during COVID-19—whether this is a from notable decrease in traffic or remaining completely static. In April, website traffic initially declined when compared to March but began to improve toward the middle of the month. In a March report from marketing influencer Neil Patel, he noted some significant declines in organic traffic. Looking ahead into May, this could be another area that shows improvement—more marketers are easing themselves back into a consistent strategy for content distribution and promotion.


Although these early months have been challenging for marketing and sales teams, recent metrics reports are showing positive signs. As we adapt to the remote work routine and adopt new strategies, we can continue to foster new business and nurture existing clients.
If you have any questions regarding how to approach these uncertain times, please feel free to reach out to us. We are all in this together. Thinkdm2 is a digital marketing and branding agency in New Jersey that specializes in the professional services and technology industries. For additional statistics and data from the month of April, you may view our email marketing infographic.