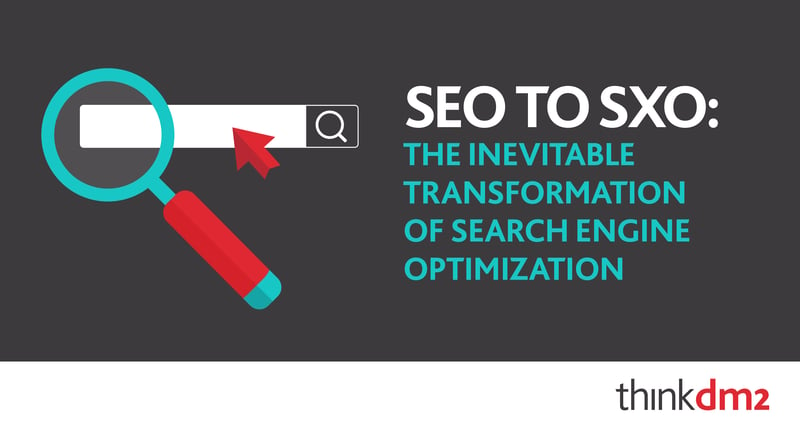 Change is not always the easiest thing, but when it comes to optimizing your website, you might want to reconsider.
Out With The Old, In With The New
Companies everywhere are always looking to improve their SEO efforts in hopes to earn the highest rankings with search engines. We believe the only way to improve your outdated optimization methods is to include SXO in your organizations' agenda. To clear things up, SXO stands for search experience optimization. Instead of prioritizing your SEO efforts with keyword stuffing, link spamming, and other ancestral methods of website optimization, SXO is all about making that search engine user ecstatic with your website.


Why SXO?
Take a moment to think about a bad experience you have had at a local restaurant, coffee shop, or even with your insurance company. Was the service slow? Did the insurance company representative disregard the problem at hand, leaving you right where you started? If you answered "yes," you know what it is like to waste your time. Incorporating SXO into your business can seriously improve how internet users and prospective clients define your brand.
Since the goal of optimizing a website is to receive higher rankings for search results, Google and other search engines are constantly updating their algorithms. These updates are created to enhance the experience for the people using the search engines by ranking top results based upon website content and the experience the user has when visiting your website. As search engines are now ranking websites based on these characteristics, incorporating SXO centralizes the user's experience which will ultimately give you higher rankings.


Search Engines Love SXO
Algorithm updates clean up unethical means of SEO. As mentioned before, things like keyword stuffing and link spamming used to be ways to out-rank competition. Since both of these fraudulent practices are not affiliated with providing exceptional content, current search engine algorithms can identify your site and make sure it doesn't rank. Search experience optimization was practically made for modern day search engines by encompassing helpful information. Delivering a great user experience increases the time people spend on your page, multiplies the amount of clicks on your site, and in return boosts your search rankings by generating website traffic the right way.
If your business or organization is looking to increase website traffic, take your online presence to the next level and incorporate a SXO strategy. At its early stages, SEO was a great way to earn higher rankings, despite how you earned them. As algorithms become smarter by using experience as a key component, SXO should be the term used when talking about search engine optimization.
Want to see if your website is optimized to meet SXO standards? Request a FREE custom website marketing report card to help determine if your web page has the content worth searching for.
---