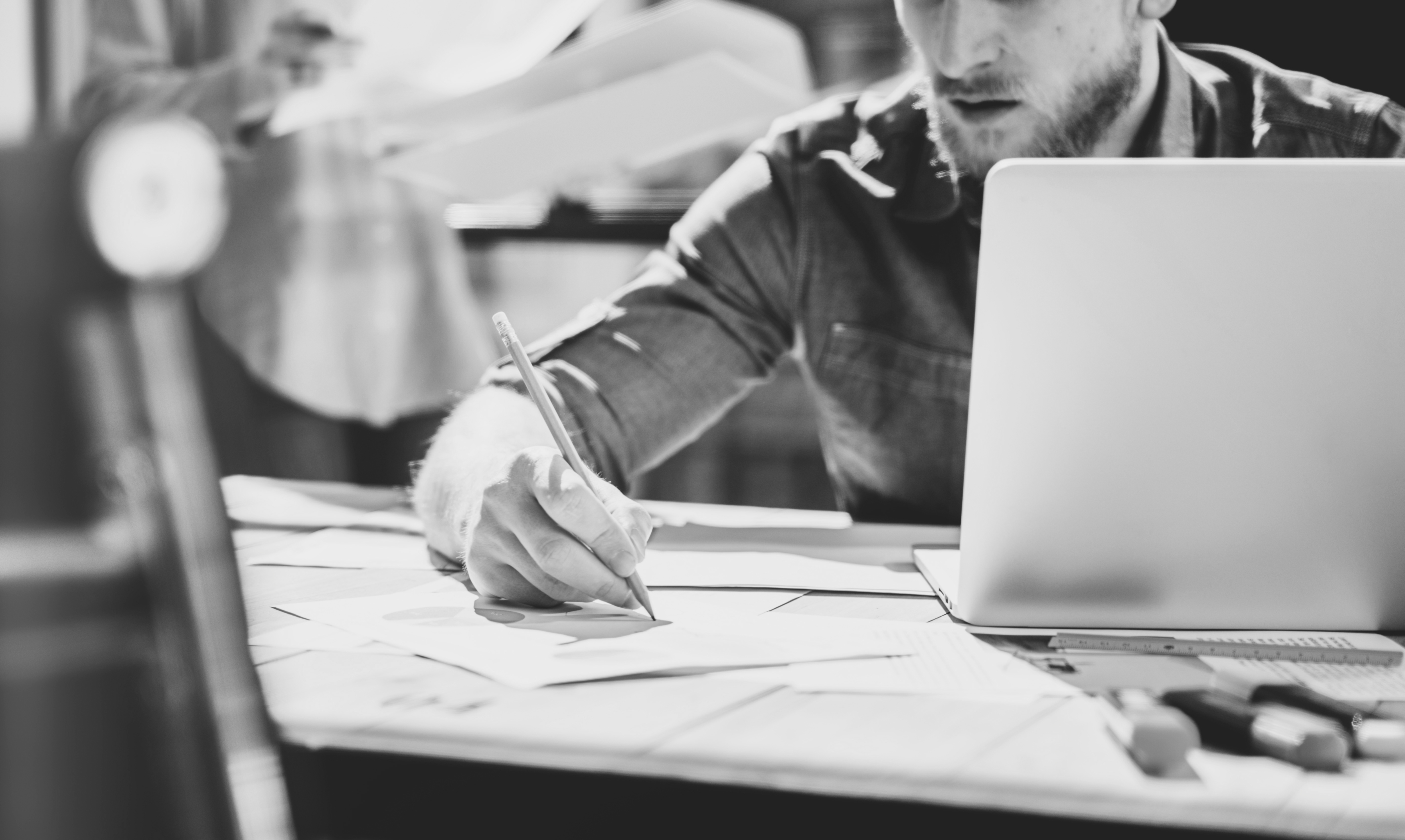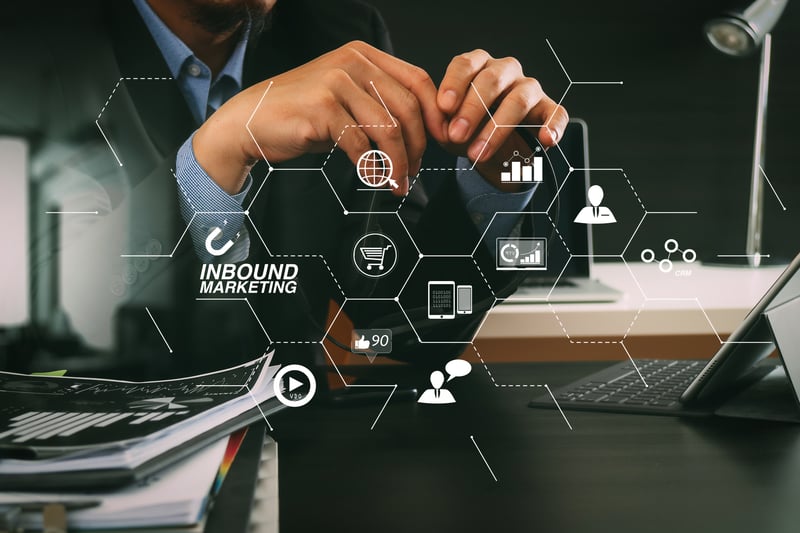 image credit: g/everythingpossible/shutterstock.com
Inbound marketing leads your customer through the buyer journey by using relevant, credible, and valuable content. It can be difficult to get your inbound marketing assets to stand out, due to the crowded marketplace and an audience who receives boatloads of content.
Keep reading to learn more about optimizing your content and making your B2B marketing assets more engaging and memorable so they stand out from the competitors.
Why is inbound content marketing so effective?
Inbound marketing does more than just display your content for anyone to see. Instead, you can make sure that the correct audience sees your content at the correct time for them. It is important that your audience wants to receive this content and you're not just throwing it at them, which is why inbound marketing is effective.
So how exactly can you utilize these inbound marketing assets?
By creating a strong inbound marketing strategy, you can optimize your content to attract and convert more leads, and increase customer loyalty and retention rates.
1. blogs
Create eye-catching titles that resonate
Titles are important because they are the first thing the audience will read. If the title does not spark interest among the audience and does not give them a reason to click on the blog, then it will be skipped over. It needs to be relevant and provide a clear explanation of what the blog is about. The title should include searchable keywords so that it comes up on search results. It should also be short and to the point but should sound interesting as well.

Headlines are also important as they help organize and break down the blog and its main important parts. These should be short but interesting as well and should be bold or bigger than the rest of the text, but still smaller than the blog's title.

Write about topics that mean something to your audience
Why is your audience reading this blog? What are they trying to learn and why do they want to learn it? The message of your blog should have a positive impact on your audience and help inspire them to take action. It should be relevant and important to the audience and contain information that they will enjoy reading about.


Talk to them in their language
Make sure the tone of your writing comes off in a way that matches your brand and your customers. It should be consistent with other blogs and content, authentic to your business, and trustworthy, so the audience can positively perceive your business. Avoid sentences in all capital letters, unless it is necessary, as sometimes it can seem like you are screaming at the readers, which they will not like. Write a blog that they will understand clearly and fully. If your readers are confused, your blog will not lead to success.
Update existing blog posts
It is always a good idea to refresh or update any older blogs. You always want to provide the most value and the best content to your audience and cannot offer them outdated content. This will also help you optimize pages that are still relevant. Updating existing blogs can help increase their rankings, which will help your blog page and your website as a whole.
2. landing pages
Landing pages are the pages your audience lands on as a result of clicking on a link from inbound marketing efforts or other published content. When it comes to SEO and CRO (conversion rate optimization), consider the following and you will be fine!
Once you develop a list of keywords you want to use, strategically and sparingly place them throughout your landing page and meta description.
Keep it clear and simple. Do not add irrelevant components that will lead to distractions. Information should be clear and offer relevant links.
Provide short case studies, logos, and testimonials to build trust with the reader and allow them to get a better idea of your business and what it is like working with you.
Include a direct call to action. Create urgency around taking action and explain the benefits that will be provided. An example of an impactful call to action is

'

Find out how to improve your ROI today

.'
3. company website
Your website is the hub of everything. Where all your inbound marketing activities lead, where your audience will discover more information, and where they will decide if they like and trust your company, or if they want to leave and find a different company. This is why it is difficult to optimize, but also very important to put a lot of effort into it.
Here are some ways to stay on track with your website:
Conduct regular content audits
By conducting content audits and using data insights, you can determine what is doing well, and the areas that need improvement. This will help you realize what your high-performing content is and find opportunities to leverage this content in more effective ways.
Monitor your performance
It is always a good idea to keep track of how your website is performing. Reviewing your Google Analytics (or any other tools, such as keyword analyzers) multiple times a year will give you insights you can use to make improvements.

Identify opportunities to optimize lead generation


Including links to other content, and pages allow you to generate more leads and gain more exposure to your content.

Optimize the buyer journey


It is also important to monitor what the customer journey is like, so you can understand it from their perspective and make it a positive experience for your customers. By putting yourself in the customer's shoes, you will understand what questions they might have, know what calls to action are successful, and understand their thought process while exploring your website.
4. eBooks and guides
Using eBooks and guides are exciting ways to communicate your brand, products, or services to your audience. You can present research or other important information about your business too. Along with this, they are easy to share and interact with.
Here are some techniques to make eye-catching eBooks and guides:
Choose the right format


Stay away from boring PDFs, Mobile-friendly formats are where it's at! The format should be interactive and engaging and should include plenty of visual elements that are appealing to the reader.

Create a nice cover


The cover is how you are going to attract your audience to choose to read your eBook. The visual aspects need to capture attention and then the title needs to hook the reader in. You can also include a short description of why they should read and what benefits they will gain to get them started.

Don't fall victim to text overload


Organize your eBook or guide to be a pleasant read for the audience. It should not be packed with text, but should rather have some white space, and be easy to follow. Include some quotes, diagrams, and illustrations to convey your message and create more engagement with your audience.
5. be consistent and update your content
As a B2B company, including a real story or case study of a company using your product, will spark the audience's imagination and give them a better picture of your company. You can utilize both written or video-recorded case studies. Both have their advantages. Videos bring a story to life and show the audience, while a written story provides more detail and information. It is important to keep stories and case studies brief and focused on the problem, solution, benefits, and results.
6. product or showcase pages
Having a product or showcase page allows you to show off what your brand offers. Some tips when you are creating content for these pages are to explain the benefits, keep it simple, create an emotional response, and include testimonials that will indicate trust. Make sure to include keywords on these pages too, as they are just as important as other pages.
Share the content love
You must deliver content that will meet the different buyer persona's needs and desires for every stage of the buyer journey. There should be many team members involved in content creation, as everyone has different ideas and skills and can help create content every group of people will enjoy. The sales team, for example, may know more about customer insights and calls to action, while the customer service team may understand what barriers to sales are the most common and can share content on how to overcome these barriers.
Content marketing can change the way businesses communicate with customers and leads. It is important that every aspect is included, which is why everyone involved with the company should be involved with the content and inbound marketing efforts.
Contact Thinkdm2 for help with your inbound marketing assets. With Thinkdm2, you can optimize your blog, website, eBooks, guides, and product pages by having content that is engaging and memorable.
Sources: Foleon.com