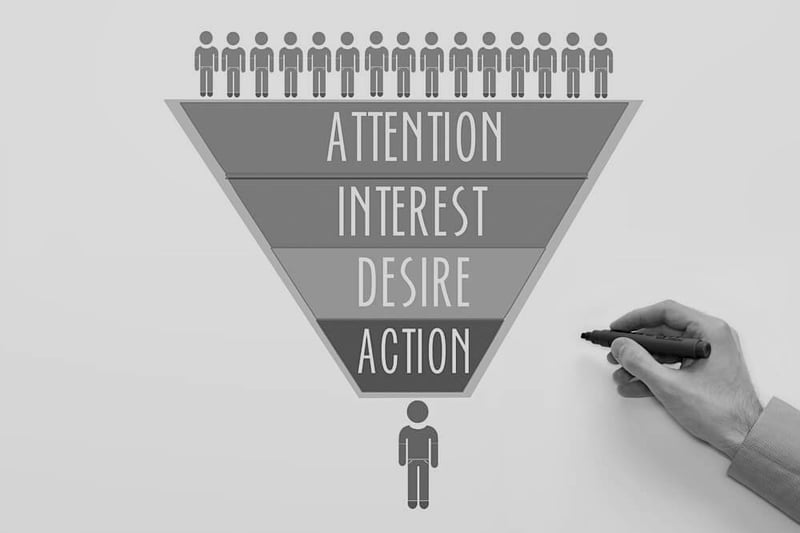 image source: astel design/shutterstock.com
In the vast world of digital marketing, lead conversion isn't a simple one-two process. There are several stages a lead must go through in their buyer journey before becoming a customer. This is something all marketers, whether B2C or B2B, understand, yet there is often confusion around the process of lead conversion itself. This is where the AIDA model comes into play; it is a model that helps explain each of the four stages someone goes through before making a purchase. In this post, we will be breaking down the AIDA model and its use in marketing.
Before we begin diving into each part of the AIDA model, let's first define the term itself. The acronym, AIDA, stands for the following: Attract, Interest, Desire, and Action.


1. First, you attract attention to your marketing company's brand
This first phase of the AIDA model is similar to the attraction stage in the buyer's journey. In this stage, a prospect has recognized an issue that they need to resolve. To start, they will likely begin researching online to not only get a full understanding of the problem they are experiencing but also find different solutions. The ball is now in your company's court to ensure that a prospect comes across your marketing content and other educational pieces. Some ways to bring attention to your company's brand include posting on social media, writing SEO-focused content, and receiving reviews from current clients to help with local searches.


2. A prospect starts to feel an interest in your brand
Now that a prospect has interacted with a piece of content—or visited a page on your marketing company's website—it's time to generate further interest in your company's solutions. This is where brand storytelling will be especially beneficial. You want the prospect to engage with your brand and get an understanding of its history, values, and the benefits it can provide. In the past, we shared a post about telling your brand story through your company's website design.
Here are a few quick highlights from that post:
Tell your brand story in a manner that actually feels like a genuine "story." Provide a setting and characters (such as your company's founders and current team members), along with a conflict and resolution. This shows your brand's ability to provide key solutions to common challenges in your industry. Remember, the goal isn't just to share your company's many achievements; you want to ensure there is a focus on the hard work, passion, and customer support along the way
Stay away from too much jargon in your brand's story. The story should come naturally without the need for any complex terms and unneeded fluff.
Try using a visual timeline to illustrate your brand's history. This will help prospects easily follow the story, which can be useful if your company has been around for several decades.

3. The prospect has expressed a desire to use your company's services
Prior to this phase in the AIDA model, the prospect learned about your marketing company and brand, and they became interested in its value and benefits. Now, your goal is to generate stronger engagement through high-level content offerings, blog subscriptions, and, if available, a demo of your service. Providing consistent touchpoints helps keep your company top-of-mind and showcases the value you can provide to your prospects. Offerings in this phase are especially beneficial if they feel exclusive and one-of-a-kind. To further build trust with your prospects and encourage them to become a customer, try sharing unique case studies and client testimonials as well.


4. The prospect is ready to become a customer for your marketing company
At last, the prospect has decided to become a customer! However, your company's role in the AIDA model is far from finished. You need to ensure that the conversion process to become a customer is as smooth and barrier-free as possible. You don't want to ask too many questions in your forms, for instance, or scare them away with a high cost to purchase. A prospect has come this far in their journey; there's no need to pressure them to become a customer until they are absolutely ready. Less friction in the conversion process will go a long way for a potential new customer.

These four phases of the AIDA model should give your marketing company a stronger idea of a buyer's journey and how to capitalize on each stage and conversion point. If you would like to receive additional insights from thinkdm2, you can follow us on LinkedIn and subscribe to our weekly blog posts. Thinkdm2 is a New Jersey digital marketing and branding agency with a focus on brand development for businesses in the SaaS, IoT, and Professional Services industry. Reach out to us today to discuss your current marketing and branding strategy.