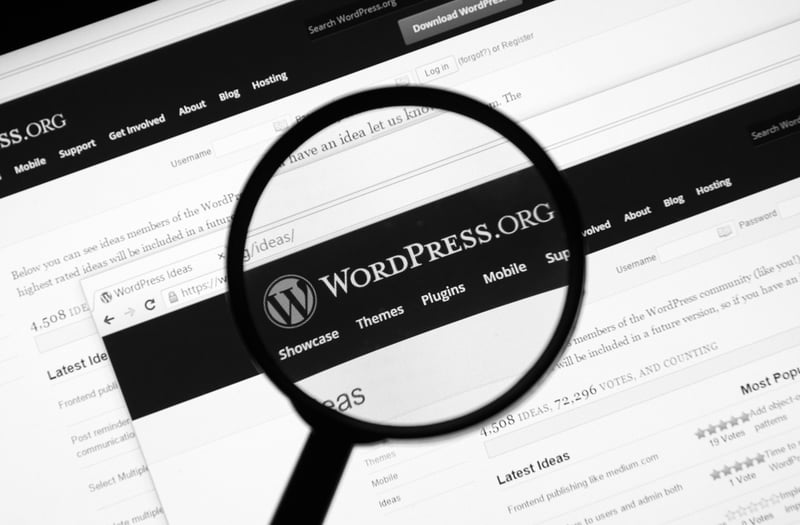 image credit: dennizn/shutterstock.com
New data has shown an impressive 30% of the top ten million websites on the Internet are currently using Wordpress. That means WordPress is making up about 60.2% of the market share for inbound, effectively placing it as a top choice for inbound traffic. Digital marketers, here are some reasons why WordPress remains at the top of inbound traffic.

It's free and user-friendly for digital marketers
Although there are costs for hosting with WordPress, the site is otherwise completely free to use. This means that even new businesses with smaller budgets can still use WordPress for their inbound efforts. If you want to host with WordPress, you can buy a domain name and use it as a main portion of your company's website.
When designing your website, it's important to remember how your audience will navigate through your content. WordPress lets you create a blog with different layout options and design styles, allowing it to feel more customized to fit your brand. The design for WordPress is familiar, and keeps all pages neatly organized on a sidebar.

SEO options are plentiful, with numerous customization options

In the past, proper optimization for b2b marketing meant ranking for specific keywords so your content could be found. With ongoing changes to Google's algorithms, keywords are no longer a primary factor for SEO.
WordPress uses built-in code that's easy for Google to understand, which makes your content more likely to appear in its search engine. Plugins let you add different tags to your blog posts, and change your meta description and website titles. These options allow you to further optimize your website, without the stress of ranking for keywords.

WordPress understands that measuring analytics is crucial for digital marketing
WordPress has a free analytics tool, which lets you know the amount and frequency of people who are visiting your site. Analytics features with WordPress let you boost traffic by targeting weaker areas of your website and finding ways to improve them. Additional plug-ins can keep you updated on how often your CTA's are clicked and how your landing pages are performing.

WordPress may not be number one yet, but it's getting close
When compared to content management systems like Magneto or Drupal, WordPress is a close third for generating inbound traffic. The more recent Version 4 of WordPress is helping drive more attention to the platform, currently making up about 94.6% over older versions. While there are around two billion different websites on the Internet, having ten million of those sites using WordPress is still an impressive accomplishment.

As WordPress continues to drive inbound traffic, digital marketers have more opportunities to grow their websites and brands online. To make sure your website isn't falling behind in search rankings, download Thinkdm2's latest eBook to learn about the myths of SEO. Looking for help with your website development? We do that too!