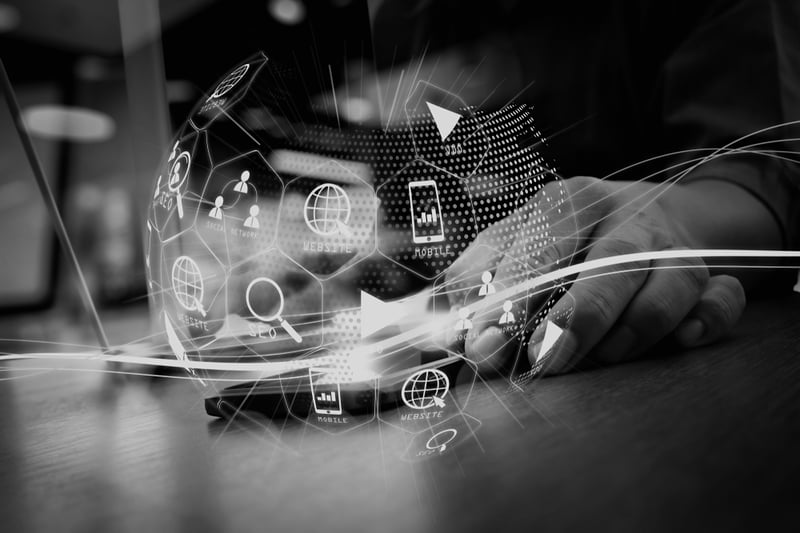 image credit: everything possible/shutterstock.com
Technology is an ever-changing aspect of the b2b business world. Whether your company keeps up (or fails to keep up) with the industry, changes can ultimately affect the success of your business. You will want to know the technology trends that your competitors are implementing, especially when it comes to marketing your brand to your audience. Here are three marketing technology trends you should be aware of.
1. Omnichannel Marketing
The concept of omnichannel marketing involves the use of all channels being available to a customer and those channels being connected to one another. This is important for b2b businesses today because an initial interaction with a prospect can occur through any channel and eventually lead them to another channel. For example, if a user finds your company through social media and reaches out to you through that platform to express their interest, chances are they will continue to your website and reach out again through email or a phone call next time. Hopefully, the prospect will eventually become a sales qualified lead at the end of this process.
The purpose of omnichannel marketing is to notice the different interactions prospects are making through your various channels. In order to keep track of these interactions, a customer relationship management (CRM) program would be extremely beneficial. Companies who use omnichannel strategies retain on average 89% of their customers, while companies with weak omnichannel customer engagement only retain 33% of customers.
2. Email and Marketing Automation
The truth is, customers enjoy personalized content. Your audience is more likely to open emails and react positively to marketing efforts that involve content that is relevant to them and their interests. In fact, 90% of marketers believe personalization is the future. By automating emails and marketing campaigns, you can keep your contacts engaged and interested in the content they receive.
Additional benefits of marketing automation include:

Saving time: Instead of manually entering lead information into your database, your employees can save time and money by focusing on other aspects of your business.


Ensuring efficiency: Any employee could become side-tracked during a busy workday when they are supposed to upload a lead's information or contact them. However, with marketing automation software, you will have one less thing to worry about since all contact records are stored, and employees can be reminded on what they need to come back to.


Increasing collaboration: Employees in all departments will have access to leads' and customers' information through the marketing automation software, so no one will be kept out of the loop.


3. Native Advertising
Ads are all over the internet, and users are finding a way to escape them. Around 25% of internet users use an ad blocking service to get rid of ads. Many website visitors see ads as an inconvenience rather than a relevant source of information because some get in the way of their user experience. Pop up ads are usually seen as irritating, and some ads make it seem like the company is forcing consumers to look at it, leaving prospects uninterested. Users like to feel like they are in control of their decisions to click on something or not.
Native advertising is a solution for your b2b business to have your ad seen without it seeming overbearing. This allows ads to not necessarily look like ads but instead integrate into the page in such a way that it looks like part of the original content intended to be shown. The use of native ads is predicted to grow immensely over the next few years. It is the best of both worlds for your b2b company to promote itself or your products/services, and for customers to continue their buyer journeys uninterrupted, while still being exposed to your advertisements.

Not sure where to start in utilizing these marketing technology trends? Thinkdm2 specializes in digital marketing and branding for other b2b businesses. Contact us today at 201-840-8910 for additional information about our other services, and check out our other blog posts!