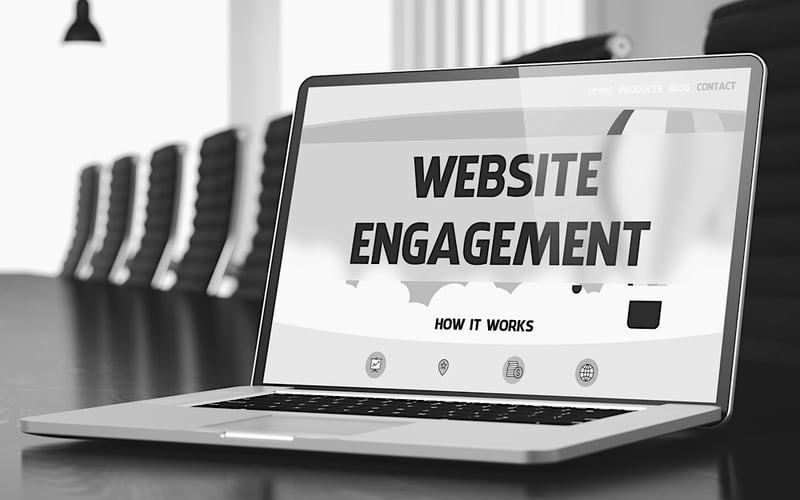 image credit: Tashatuvango/shutterstock.com
Whether your company specializes in content development, branding, or design, it's incredibly frustrating when your website's engagement rates are continuously decreasing. A number of factors can cause this, such as content written for the wrong stage of the buyer's journey, a weak user interface, or lack of proper linking between webpages.
If your b2b website has seen a decline in engagement, here are three strategies that you can follow to help re-engage your audience.
Observe existing patterns in your website analytics
When observing your website's analytics, you may discover that some engagement patterns exist. While this may be as simple as a specific topic not performing well, sometimes you'll have to dig a bit deeper into your metrics. Try to consider these questions for your b2b website:
How much time is spent on a specific web page? If a visitor is leaving your website without spending enough time to digest a page's content, there may be some design flaws you've neglected. This can include a broken link, lack of section headlines, or confusing navigation.


Are your using interlinking on your webpages? It's important to link common webpages to encourage a visitor to continue a session. When linking to a third-party source, be sure to enable opening in a new tab, to prevent a session from getting cut short due to a page exit.


Is the page being refreshed, possibly due to an error? In the worst case scenario, a webpage link could be damaged or loading improperly. For instances of lengthy loading, you may be using too many imagery on the page, misusing Javascript, or there are too many HTTP requests.



Use interactive content to provide more user engagement
Interactive content is inherently engaging since it encourages a visitor to click or take an action. After all, without additional steps for a user to take on your website, their browsing experience will likely end quickly. Using call-to-actions is one of the most common methods for interactive content. In addition to providing opportunities for lead conversion, using CTAs as interactive content helps to build user engagement. As a result of a click and form completion, a visitor will have the option to download an exclusive piece such as:
Case study about a current industry trend or issue

Ebook that includes content related to the page the visitor was viewing

Infographic that provides a visual stimulus in addition to informative content

Sign-up for an upcoming webinar
Avoid cluttering your content when laying out your website design
Whitespace keeps dense paragraphs separated so that key text isn't too bunched together. This prevents a visitor from feeling discouraged when tackling larger pieces of text on your website. You can provide line breaks between different sections, instead of trying to combine all of your key points in a single paragraph. When sharing multiple examples in a section, bulleted lists are a great way to space out information.
Images can also help add visual aids to your content, providing an easier method to digest content than reading. You'd be surprised how many visitors appreciate a quality image on a blog page, especially if you use custom imagery like a model or chart. Naturally, keep your image sizes to a minimum so you don't clutter the whitespace on your page. Be sure to use alt-text with your image as well, to ensure that search engines can interpret it.
Building user engagement on your website can be a challenge, but these strategies will get you started on driving more meaningful visitor sessions. Thinkdm2 specializes in website design, digital marketing, and branding for b2b companies. For more information about how we help our clients with their website design challenges, you can contact us today at 201-840-8910!