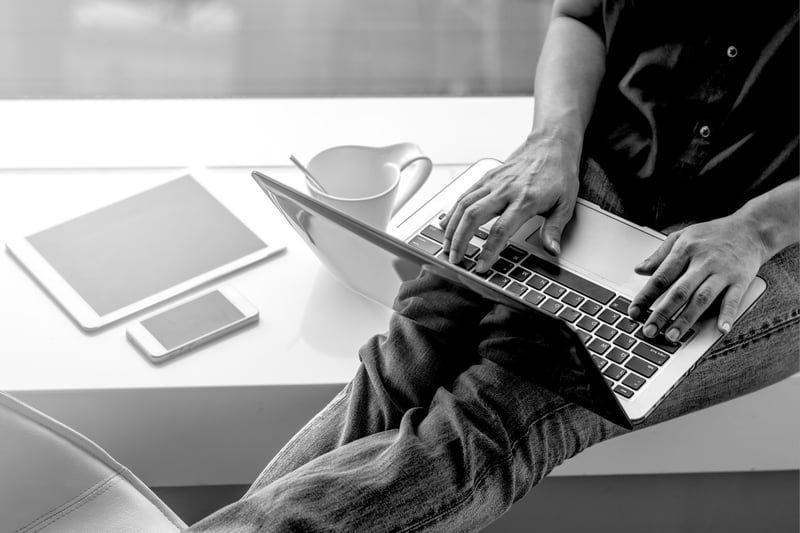 image credit: Chinnapong/shutterstock.com
In b2b marketing, a successful website is key to attracting new visitors and generating qualified leads. Your website must have a purpose and send a personal message to visitors, in the same way your brand's voice will resonate with your audience. To keep your webpages optimized and easy-to-navigate, here are four tips you can follow to perfect your b2b website design and content.

1. Start by setting business goals for your b2b website
Not every business will have the same goals, so it's important to know exactly what your website will achieve. To get started, here's an example of SMART business goals for lead conversion:
Specific: improve conversion rates from your blog CTAs. Accomplish this with exclusive content offers — such as ebooks and custom reports — that aren't available elsewhere on your website.
Measurable: improve lead conversion rates by 60%.
Attainable:

be realistic with your marketing goals; if increasing conversions by 30% is unreasonable, stay in-line with your previous business achievements.
Relevant:

keep goals relevant to your business; are you looking to increase lead conversions to boost your sales, or to improve your marketing strategy?
Timely:

convert 20 leads for each quarter of the year.
2. Keep your webpage content clutter-free
Your webpages should have only the most critical information your visitors will need to see. This can include basic contact information, a list of your services, and clients you've worked with. Excessive text won't provide a user-friendly navigation experience and can increase your bounce rate.
Use line breaks between different ideas, rather than trying to combine everything in a single paragraph. You can use bulleted lists when addressing multiple ideas at once, and keep your headlines short for each section. Remember, whitespace is a content marketer's best friend for blogging!
3. Optimize and link your content with topic clusters
Your b2b business should know who your visitors are and where they are coming from to view your content. This is where your optimization tactics will really need to shine.
Topic clusters are an important search engine optimization strategy for b2b marketers. When developing your topic clusters, start by creating a pillar page. This may include topics such as:
Lead generation

SEO

Marketing technology

Digital marketing
Next, provide links to relevant content you've published, to create a network of connected webpages. Now that your content is properly connected with links, search engines will associate similar content you've produced, which can improve your search ranking.


4. Consistently measure your webpage analytics
If a webpage is underperforming, it could be from a lack of optimization, navigation, or content that isn't engaging your audience. You'll want to keep track of your website's various analytics, to easily spot any inconsistencies. This can include measuring:
Direct and organic traffic:

SEO tactics play a key role here; low organic traffic means your webpages aren't properly optimized for search engines.
Click-through rate:

give visitors a reason to continue reading your webpage content, and organize your content in an easy-to-follow format.
Bounce rate: to lower this, set hyperlinks to open in new tabs, and keep pop-up ads to a minimum.
You can manage your analytics through marketing automation tools from a CRM platform, like HubSpot. Marketing automation can be integrated with key components on your website, including email templates and notifications. This lets you send automated messages to contacts based on their actions on your website, so you can always reach them in a timely manner.

Thinkdm2 is a digital marketing and branding agency dedicated to helping clients with their b2b marketing strategies and web development. Looking for tips on driving leads to your b2b website? Download your free lead generation ebook!