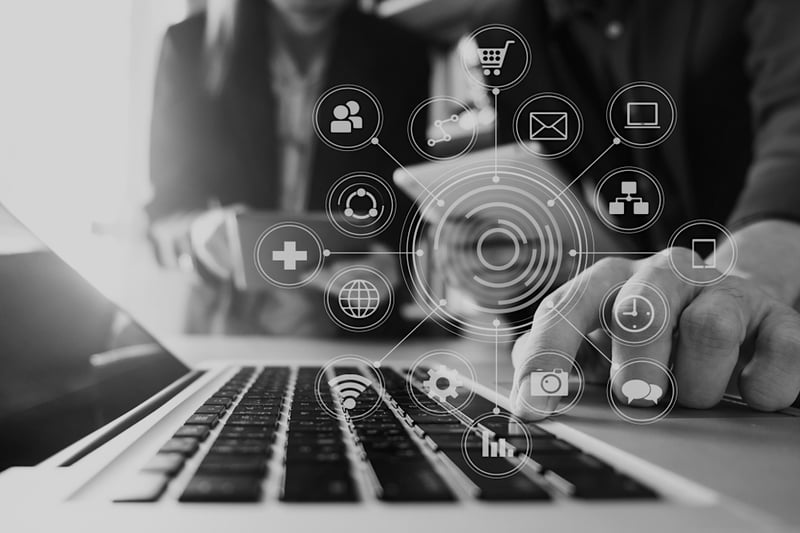 image credit: mrmohock/shutterstock.com
As marketers, we have a lot of day-to-day tasks to take care of—from keeping up with newly-generated leads to planning out pieces to support an upcoming marketing campaign. Marketing automation serves as an effective, time-saving method to ensure your leads and customers are receiving follow-ups based on the actions they take. For example, a user downloads an eBook on your marketing website and receives an automated email that shares a related blog post.
In this post, we will be sharing three tips to implement automation in your marketing strategy.
Tip #1: Personalize the messages in your marketing automation touchpoints
According to HubSpot, 80% of customers will be more likely to make a purchase when personalization is used. It's easy to simply set up a sequence of automated emails, with generic messages and offers, and then call it a day. However, this will not give your contacts and leads the type of strong, customer-oriented service they expect and deserve. Consider the stage of the buyer's journey that a contact is in, and use the relevant information you have received about them to craft a more personalized message. The right piece of content at the right time—and especially to the right person—is critical in any value-driven marketing strategy.
Here is an example of how a personalized message might look.

Hello, John
Hope you're finding the information in our Lead Generation Tips eBook useful for your marketing strategy. Our own team recently began putting together a Lead Gen Expert Insights webinar series; the first session will be premiering next Thursday at 11:00 am. Thought this would further help you and your team at Sunny Day Marketing strengthen your lead generation strategy for 2020.
Feel free to register for our upcoming webinar by clicking here.
Sincerely,
Thinkdm2


Tip #2: Leave a delay in time between numerous automated emails
Excessive emailing can come off as spammy if a contact isn't engaging with the first few you send to them. While there's nothing wrong with re-sending an email to those who did not open it or click a link, the rate at which you send should be taken into consideration. Typically, sending out a follow-up reblast email one week after the initial send is a best practice to follow. However, as we mentioned in our Inbound 2020 blog post, email sending has seen a shift in frequency during COVID-19. B2B marketing companies have found that sending out emails two days in a row has shown a 24% higher response rate. While this can work for a first reblast, you will want other automated touchpoints to be sent on a 5-7 day schedule.
Leaving time between each automated marketing email allows a contact time to not only digest the content they've already viewed; it also allows them time to develop additional interests and needs based on other content your company is offering. For example, let's say a lead subscribes to your company's blog via a post titled "top B2B digital marketing tips for 2020." You may then follow up on their subscription with an automated email that promotes a similar blog post. If the user clicks to read the post, it's a good sign that they're showing engagement in your content. You can then share a follow-up piece of higher-level content—such as a white paper—to further move them along their buyer journey. If they didn't click to read the initial blog post, you can schedule an automated reblast email to re-promote the post (with a tweaked message).

Tip #3: Always measure Key data from your marketing automation efforts
We've shared a few tips on how to get started with marketing automation, but your company will also need to assess the results of its efforts as well. The simplest way to gauge the success of your marketing automation is to take a look at the performance of your automated emails. This includes the open and click-through rate, time spent viewing the email, and whether or not a user unsubscribed after receiving the email. For a higher-level analysis of your data, it helps to set up A/B testing with unique subject lines, body copy, and even different CTA styling (while staying on-brand). This will allow you to see which types of automated emails are resonating the most with your audience.


Marketing automation is a great way to not only streamline tedious tasks but also ensure you are providing the right level of nurture to each of your leads. We hope you found the information in this post helpful for your company's marketing strategy. If you're looking for additional marketing insights from thinkdm2, you can follow us on LinkedIn and subscribe to weekly blog updates. Thinkdm2 is a full-service digital marketing and branding agency located in New Jersey. Our services include building marketing strategies, developing brands, and designing company websites and content pieces.