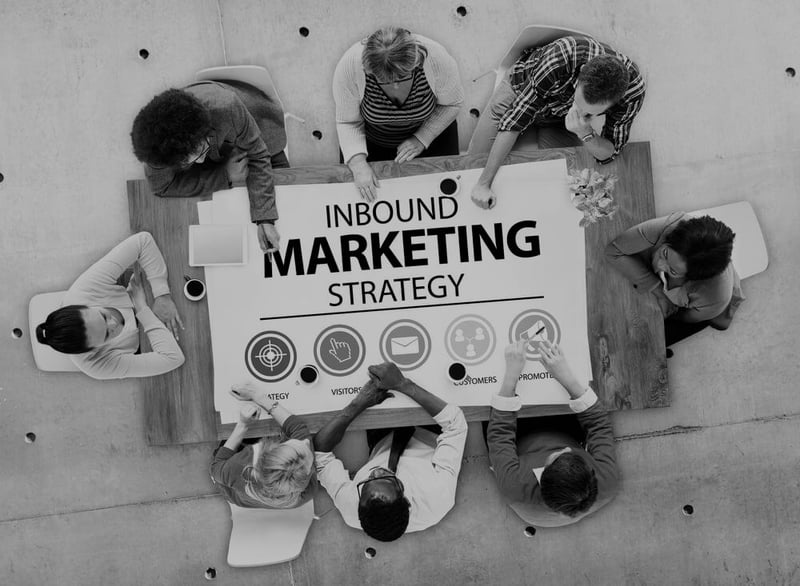 image credit: Rawpixel.com/shutterstock.com
As the year continues to bring complex challenges to the marketing industry, many marketers continue to ask themselves, "can 2020 end already!?" It wouldn't be much of an exaggeration to say that 2020 has been perhaps one of the most difficult years for marketing in the past few decades. In the midst of this global pandemic, we were surprised and delighted to see that HubSpot would continue to hold its annual Inbound conference—this time entirely virtual. We had the opportunity to attend a few sessions during the event. These are our 3 highlights from Inbound 2020!

HubSpot's marketing and CMS tools were on full display at Inbound 2020
It should come as no surprise a few of the major announcements at Inbound 2020 were related to HubSpot's latest updates and features. In addition to an updated custom report builder—which lets marketers set up their own customized metrics reports—perhaps the most exciting feature came from the CMS hub. As many digital marketers can tell you, there's often a disconnect between the marketing/content creation side of a company and the design/programming side.
The new CMS hub is looking to remove that gap and encourage marketers to develop simple and clean web experiences, without the need for coding knowledge. Anything that a developer creates can be easily updated and edited by a marketer or content creator in your company. To make things just a bit easier, HubSpot has also recently added Canva integration so you can design custom graphics for your website and files. Search engine optimization (SEO) is also integrated into the CMS Hub, with visual insights into how much your SEO improves as you make changes.
As HubSpot put it best during their spotlight session, "CMS Hub is a developer's dream without becoming a marketer's nightmare."


Email marketing has drastically evolved in 2020
If you've been in the marketing industry for the past several years, it's likely you've come across many best practices for your email marketing. For B2B marketing, in particular, this includes avoiding sending emails on Fridays, keeping subject lines below 50 characters, and leaving out "fluff" such as emojis or exaggerated spelling. Well, according to Jay Schwedelson of WorldData, the world of B2B email marketing has changed dramatically.
In Jay's Inbound 2020 session, "Critical Email Marketing Techniques to Crush the Competition," he shared a few key stats about email performance for B2B companies. Here are a few highlights:
Emails with exaggerated spelling in the subject line have increased email open rate by 14%.
Emails sent two days in a row have seen a 24% higher response rate. In the past, a B2B company would reblast an email one week later rather than in the same week.
Using the word "new" in the subject line has led to a 17% increase in open rate.
Subject lines with over 65 characters have seen a 20% increase in open rate.
Another interesting detail from the session was how strong B2B email marketing performance has been in the past 30 days or so. When compared to January, inbox activity has gone up 22%, with overall open rates increasing by 16%. It's become clear that B2B marketers are shifting their approach to their email strategy—and it's been seeing very positive results.


LinkedIn Sales Navigator simplifies your audience targeting
Any tool that makes it easier to reach the right prospects online sounds good to us! At Inbound 2020, we learned a lot about the strength and convenience of LinkedIn Sales Navigator. With different cost options for Professional, Team, and Enterprise, you can utilize as little or as many features as your marketing company needs. Some of your strongest leads may be hiding within a vast LinkedIn ocean; as we continue to embrace marketing and communication digitally, it's more important than ever to know where your ideal customers are spending their time online. These are just a handful of the LinkedIn Sales Navigator features discussed in the session:
Sales Preferences can be leveraged to let LinkedIn know who represents your ideal prospect and whom you are currently targeting.
See who has viewed your profile in the last 90 days.
Send messages to potential leads even if you aren't connected with them.
Set up alerts based on lead shares so you can see what content your ideal leads are sharing on LinkedIn.
Save prospects as leads and accounts or add them to lists that can be easily shared with others on your team.


Another year of Inbound has to an end, but there is certainly a lot of new information to unpack. For more posts around Inbound marketing and developing an effective marketing strategy, check out more of our blog content. You can also click below to visit thinkdm2's LinkedIn page and follow us for additional insights. Thinkdm2 is a B2B digital marketing and branding agency from New Jersey that specializes in the IoT, SaaS, and Professional Services industries.