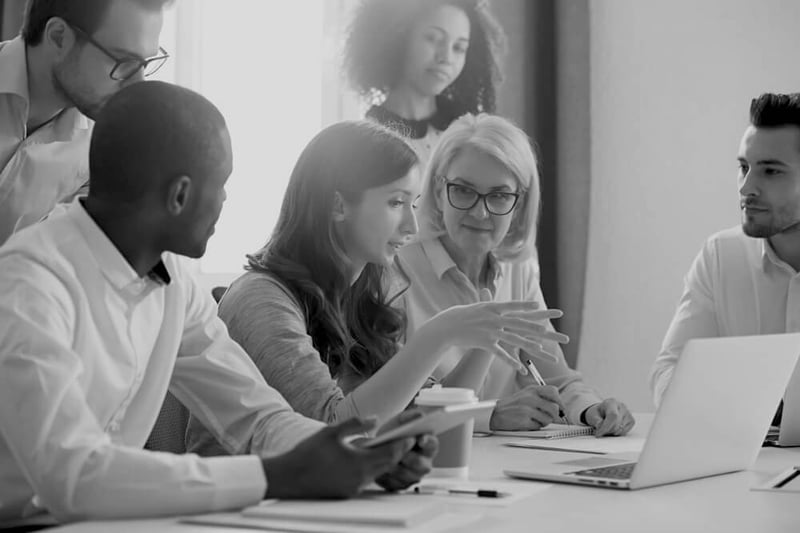 image credit: fizkes/shutterstock.com
One of the top challenges B2B marketers face is developing a strong brand strategy to make their brand stand out among competitors. After all, a brand with a clearly-defined purpose and value can help you stand out among others in your industry. Recently, we explored some of the top questions companies should be asking about their brand. In this simple guide, you will learn how to effectively grow your B2B brand.

Appeal to the emotional side of your brand's audience
If you're not familiar with Aristotle's modes for persuasion, here is a quick breakdown. Ethos means to appeal to ethics; logos follows more logical reason; and pathos—arguably the most important for your branding—appeals to emotion. That's right, the emotional side of your brand plays a huge role in appealing to your audience. This can be from the initial, gut reaction someone has about your brand or their experience with it over time as they become an active follower of your company. There are a few ways that you can appeal to the emotional side of your brand's audience:
Share past reviews and customer experiences with your audience. If your brand has provided help and guidance to other companies, share your process! How did you provide the right solutions to them? How did your help make them feel?


Let your brand voice shine through its personality. Some B2B companies struggle to come out of their professional comfort zone and show a different side of their brand—but taking the time to engage in a lighthearted conversation with your audience is important. You want your brand to feel human, and the best way to do this is through a natural, conversational tone.


Personalize your nurture content to connect with individual leads and prospects. This can be as simple as including their first name in an email or segmenting your contact list to share specific content with those who would be most interested in it.


Nurture your existing customers and cultivate brand loyalty
Brand loyalty isn't something you can just create right from the start of new customer acquisition or partnership; it takes a significant amount of time to grow a long-term relationship between your current customers and brand. In some ways, you may find that growing brand loyalty isn't so different from building a friendship! Here are a few strategies you can use to establish brand loyalty:
Actively listen to real-time feedback from your customers and prospects. Their feedback can often come from online reviews, but it helps to ask for their responses as well. Constructive-criticism is important, and in some cases, it can be even more beneficial than simple praise. This is why you shouldn't let negative comments bring you down. Every brand has room to grow, so learn from previous missteps, and let your customers know you're listening to them!


Always respond to emails in a timely manner. Let's face it, as marketers, we get tons of emails flooding our inbox every day; you won't always be able to respond right away. That's why it's helpful to publish automated emails that can provide faster responses and let others know you've received their message. This automated email should be customized to use a more human, personal message as well, rather than a generic "I'm not at my computer right now—be back by noon."


Regularly share exclusive nurture content with current leads, customers, and prospects. Your B2B marketing company should be promoting blog content or other pieces such as ebooks and whitepapers. However, you should also have ungated, exclusive content offers for those who regularly engage with your brand online. Give them a reason to stay with your brand, and provide rewarding content pieces they won't find anywhere else.

Research your competitors' brands and how they interact with customers
When a person researches for multiple B2B marketing companies online, there's bound to be hundreds—if not thousands—of options. Put yourself in their shoes; if you managed to find your website and brand online, would you be interested in the services you're providing? You may not spend enough time really digging into how your brand actually stands out from the competition.
To get an idea of how to promote your brand online, you'll want to research what other B2B marketing companies are doing to promote their brand. This may include their presence on social media, free content pieces or demos they offer, or the types of calls-to-action they are featuring on their website. Your goal at the end of this research is to discover the areas that your brand may be struggling with. Additionally, you may notice something that your competitors aren't doing properly, which you can capitalize on with your own brand to stay ahead of the game!
Social media is one of the biggest missed opportunities for B2B marketing companies. There simply aren't enough B2B companies making good use of social! If you can develop a strong social presence and engage with your audience, you'll provide more touchpoints for your audience to connect with your brand. Smaller companies may feel discouraged with a limited audience, but there is still the chance to nurture your existing followers and leads—which is something your competitors may not be doing.


It takes time to develop a strong brand strategy, but the payoff is worth the investment. For more B2B branding strategies and insights, check out thinkdm2's blog, or contact us today at 201-840-8910. Thinkdm2 is a digital marketing and branding agency from New Jersey that specializes in brand and website development for B2B companies in the SaaS, IoT, and professional services industries.