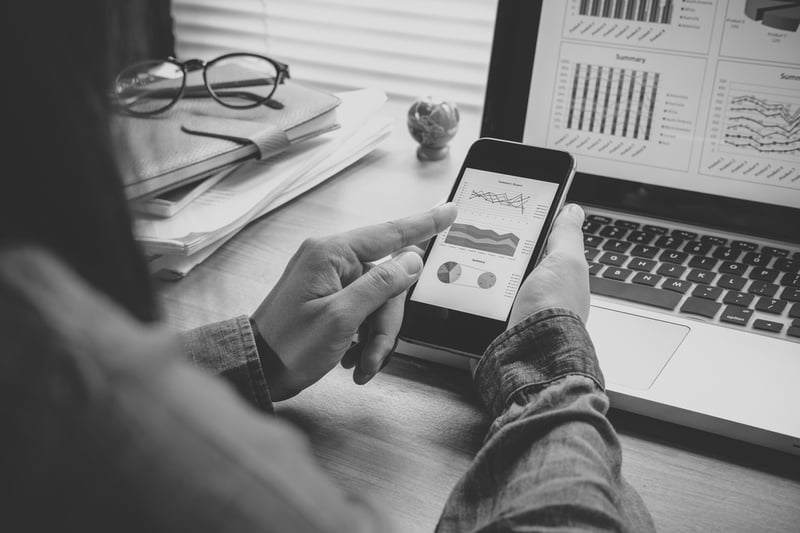 image credit: Satori Studio/shutterstock.com
Your b2b website plays a huge role in building brand awareness, gaining qualified leads, and sharing relevant content. If you're not measuring specific metrics for your site, it may negatively affect its performance. A dedicated analytics tool is a good place to start, as provides real-time data for your web pages.
These are the key metrics that have an influence on your b2b website performance.


Analyze web traffic to measure your content reach
Though your primary concern may be to increase traffic to your website, you should pay attention to where it's coming from as well. Your web traffic can excel in one area, such as organic reach, but lose momentum another. Some metrics to keep track of include the following:
Referrals

Direct Links

Organically (such as Google)

Email

Social Media
If your b2b website could use an extra boost in web traffic, you'll want to give these next three metrics your full attention.


Search Engine Optimization allows visitors to locate your website

Your metrics will struggle if your website isn't following proper SEO guidelines, such as proper link placement, and title and headline length. Regardless of how helpful your website's content may be for your audience, it won't benefit them if they can't find it. While Google has recently changed its search algorithm and no longer supports basic keywords, there are other ways to optimize your b2b website.
Be sure you're using the following for your b2b website design:

Meta-descriptions for your webpages

Topic clusters

to organize content

Working links between your web pages

Short webpage titles, with the page title in the URL


The user experience on your website keeps visitors engaged
Imagine reaching a webpage with an interesting topic that addresses an industry-leading question, only to be met with numerous pop-up ads and disorganized text. Poor website design keeps visitors from returning to your website.
Focus your efforts on making each web page not only easy to navigate, but visually appealing and consistent. You don't want to overload a page with too many images or blocks of text. Any links you provide you should be fully functional, easy to locate, and lead visitors to the right destination. Ensure that your webpages are working accurately for mobile, since mobile traffic remains an important metric for b2b marketing. Design your website's CTA's around mobile screens, scaling down the size if necessary.

CTA's encourage visitors to view additional content
Your site may experience an increase in traffic, but that doesn't necessarily mean visitors will stay on a web page for long. Visitors will typically come to your website with a specific question or concern in mind, and leave once its been addressed. Encourage your visitors to engage with more of your content by making use CTA's for effective lead conversion. This provides visitors with additional links to lead them to other relevant pages on your site.
Thinkdm2 specializes in web development, SEO, and analytics for b2b marketers. We're a digital marketing and branding agency that works hard to provide our clients with the best strategies to grow their brands online. For additional advice on optimizing your b2b website, download our free ebook today.