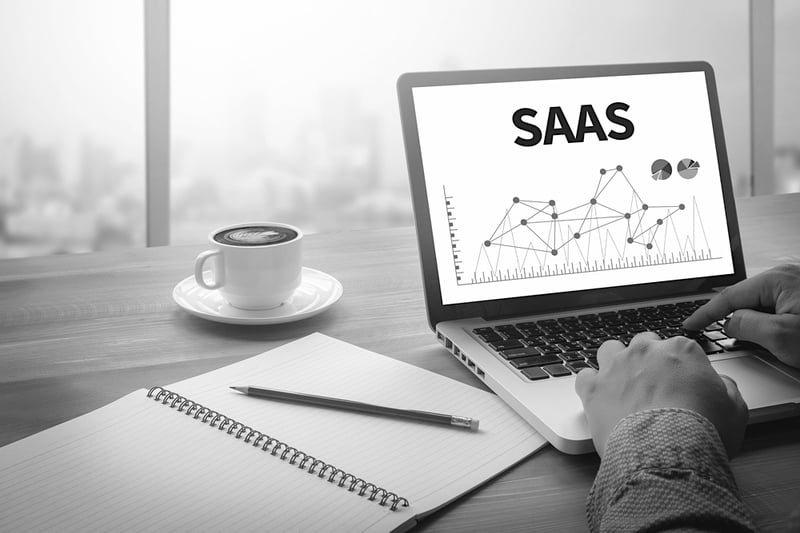 image credit: one photo/shutterstock.com
SaaS businesses that adopt b2b marketing best practices are seeing a number of benefits and opportunities for business growth. ROI is easily generated digitally without the need for speaking directly to a salesperson, and the sales process can lighten the workload thanks to automation.
However, that's not to say that a b2b SaaS company will only see positive opportunities; increased competition and difficulty displaying value are just some of the obstacles in SaaS marketing. Let's take a closer look at some of the opportunities and challenges in b2b SaaS marketing.
Opportunity: Providing content and training that educates
Thought leadership and value are two of the key components to marketing success in any b2b SaaS businesses. Content marketing is most commonly used to promote educational content to your audience. This may include:

eBooks

Infographics

Blog posts

How-to guides

Whitepapers
In Growfusely's article1, "The Ultimate Guide to Content Marketing for SaaS Businesses," they reference that 250 of the world's largest SaaS companies have found that the top 10% of SaaS blogs bring in an average of 45,700 organic search visits. Likewise, around 85% of the largest SaaS companies currently use blogging for sharing content.
Despite sharing numerous pieces of content with their audience, some SaaS businesses may not be fully utilizing other areas of value: training. Those familiar with HubSpot have likely seen their extensive library of informative training videos and lessons. These courses provide an in-depth look at various topics such as content marketing, sales enablement, and data analytics. These courses are also free to sign up for and can be used internally to train your team.


Challenge: Competition is high in b2b SaaS marketing

Competition is often very high for b2b SaaS marketing, and an abundance of SaaS service offerings can make it difficult to stand out among competitors. After all, how unique will your service offering be when several others are following the same marketing strategies?

The solution lies in the way you provide value to your customers. Many b2b SaaS businesses focus too heavily on locking-in their customers, keeping them dependent on a service so they won't try to make a switch. Naturally, this is not the best solution from a b2b marketing standpoint. Your business should continue to provide value throughout a customer's lifecycle and focus on retaining customers, rather than locking them in.

Value can come from several areas that include:

Personalized content that can be emailed through automated workflows

Exclusive offers or discounts based on how long they've subscribed to your services

Early access to exclusive content and demos before it is publicly published
Opportunity: Offering online demos of your services

SaaS businesses have a bit of a disadvantage when it comes to demonstrating their services, because there is no tangible product for potential customers to demo in-person. Luckily, this is where online demos come in to play.

Demo videos can be hosted through scheduled meetings, live demonstrations, or archived demo videos on your website. You want to provide as much convenience for your audience as possible. When setting up personalized demos that a lead can sign up for, integrate an automated calendar system to easily share your teams' available times for a demonstration.

Online demos don't have to stop at demonstration videos either; free trials and downloadable demos are especially useful for leads. In fact, free trial offerings are responsible for over 75% of purchases for SaaS services. B2B marketers understand the importance of call-to-actions for lead generation, and downloadable demos are a great CTA to provide at the end of blog posts or on specific service pages.

Challenge: SaaS customers are quick to cancel contracts and subscriptions

When SaaS services don't use long-term contracts, the process of canceling a subscription is very simple and quick to do. Think about any time you may have signed up for a service, only to cancel just a week or two later. Maybe you were interested in a service at one point but ultimately decided it wasn't meeting your needs. With just the push of a button, it can be that easy to unsubscribe.

To counter this, SaaS businesses can offer alternatives to customers and suggest reasons why they may be missing out if they cancel their subscription. Here are a few examples of how you can encourage a customer to continue with your services:

If the pricing isn't what they were expecting, suggest that they try out a lower-priced tier. There may be some features they'll miss out on, but it is a more beneficial alternative than unsubscribing altogether.

Allow them to meet with a sales or marketing representative to discuss any existing concerns they are having with your service.

If the customer has already clicked the unsubscribe button, try displaying a message that can show the features they will be missing out without your service. They will also be losing key data that they used during their subscription.


While some of these challenges may seem daunting, it's important to remember every obstacle has a potential solution; and those solutions lead to opportunities for business growth in your SaaS company. If you're looking for additional information to better understand your b2b marketing efforts, you can contact thinkdm2 today!

---
1 Dholakiya, Pratik. "The Ultimate Guide to Content Marketing for SaaS Businesses." Growfusely. No Post Date. Retrieved July 8, 2020 from https://growfusely.com/blog/resources/the-ultimate-guide-content-marketing-for-saas/