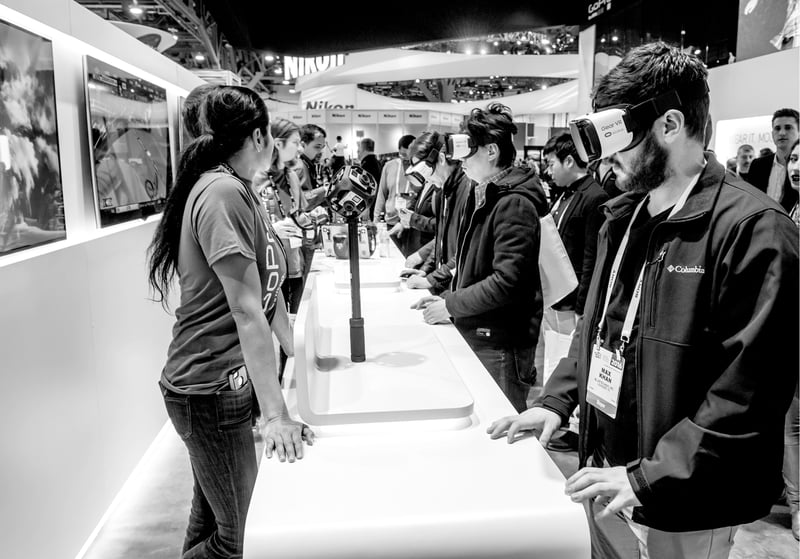 image credit: Kobby Dagan/shutterstock.com
Las Vegas hosted the 2018 Consumer Electronics Show (CES) last week, bringing in over 180,000 visitors and 900 startups. While we at thinkdm2 are b2b marketers at heart, something about CES leaves all marketers and techies with a sense of excitement.
The event offered an exciting look at the future of technology, for marketers including new AI advancements and increased IoT speeds for mobile devices. If you missed some of the announcements, here are five big tech trends from CES 2018.

1. Amazon Alexa continues to impress, but competition is growing
Alexa has become a huge success for Amazon, and is steadily measuring up to Google Home. In 2018, competition will come from both Google Home and Apple HomeKit. Voice search looks to be the hot new trend for marketing. Custom voices can add personalization and brand identity to companies that use it for their websites. Gartner has predicted that Internet browsing through voice will increase to 30% by 2020.

2. IoT device numbers are increasing
IoT is already proving useful for storing personal data; it can even keep track of a user's personal health. One feature is a sleep sensor to help measure a user's sleep cycle, while another can track how much sunlight a user is exposed to. Sensors are also becoming more convenient for IoT devices, with smaller sizes. Micro-IoT devices can even be worn on-the-go for easy portability.

3. Say hello to 5G speeds in 2018
Speed is a reoccurring theme for IoT in 2018, with 5G expected to increase to multi-gigabit download and web browsing speeds. Imagine the increased optimization of a company's supply chain management with connected IoT devices and 5G. Devices will be able to communicate between one another for the most efficient connectivity to date.

4. Computers and laptops are becoming more personalized
Computer chips, especially from laptops, will see improved battery life, higher memory, and graphical enhancements. Some laptop sizes will become as thin as 16mm, or possibly even lower. Other laptop models can be converted to a tablet by simply folding the keyboard back, instead of being detachable. Intel also has an upcoming chip that will use AMD graphics, which will be especially useful for computer gaming from laptops.

5. Facial recognition will be improved
Though this already became the standard for the latest iPhone last year, facial recognition is expected to grow in quantity and quality. Security measures will be improved for mobile devices and video systems, and may become the new standard over touchscreen security.

Each year, tech marketers must keep up with new advancements and key features from startups, and this year looks to be no different. For more on the latest tech trends, visit Thinkdm2's blog today!