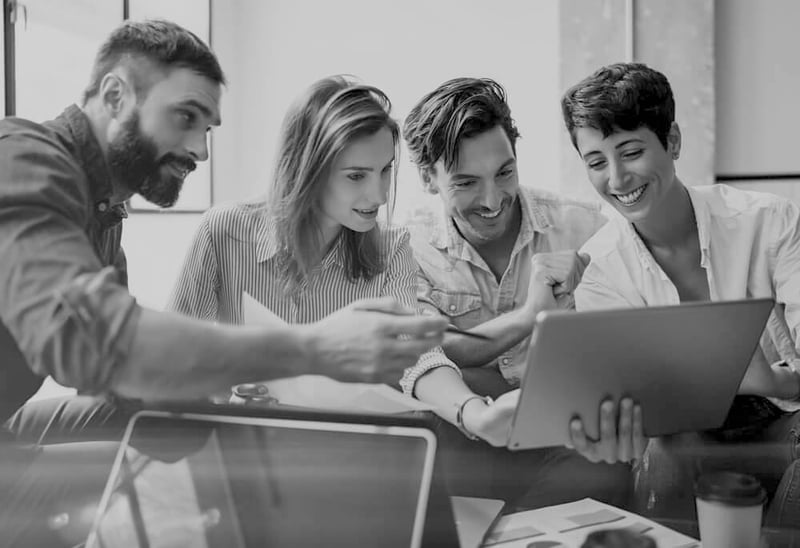 image credit: SFIO CRACHO/shutterstock.com
It's safe to say most of the world is in agreement that 2020 was a difficult year for our professional and personal lives. A lot has changed in the way businesses operate, and digital marketing has seen a number of notable shifts. As we navigate the rest of the year and make our way to 2021, it's important for digital marketers to reflect on past strategies, campaigns, new client relationships, and evolving business plans. This reflection can help motivate and empower digital marketing teams in the year ahead. In this post, we will be taking a look back at digital marketing in 2020.

Pantone's Color of the Year left its impact on digital marketing in 2020
Earlier in 2020, we saw the announcement that Classic Blue would be Pantone's Color of the Year. In the midst of this year's uncertain times, this color choice felt like a natural stepping stone toward reestablishing confidence and care in the marketing industry. The soothing nature behind Classic Blue helped provide digital marketers with an opportunity to express empathy toward their customer base.
This was especially the case when it came to messaging. The core essence of Classic Blue—calmness, trust, and reliability—helped reassure prospects and customers that your company would always be by their side to help them overcome their challenges. Whether your digital marketing company expressed this message through social media, email campaigns, direct mail pieces, or as a callout on your website, these messages were important to share with your audience.

Digital marketers shifted focus to nurturing existing customers
Generating new leads and converting them into customers is all part of a solid digital marketing strategy. However, this year proved that it's not always about finding new business opportunities; you need to be a helpful, reliable source for your existing customers as well. Let's face it, nobody was sure where 2020 would take us—and the future is still uncertain. The relationships that you've built with your customers, and the support you've brought to them, is something that should always remain. Focus shifted to providing helpful, empathetic messaging that truly showed your company's appreciation for its customers. For some digital marketing teams, this also meant reaching out to customers they haven't spoken to in a while to reconnect.


Brand awareness in digital marketing became more critical than ever
Digital marketers had to say goodbye to in-person events, trade-shows, and conferences in 2020. Without these in-person gatherings, spreading the word about your company's brand was left solely online. From social media marketing to building stronger SEO, and even starting up a new webinar series—there were endless strategies that digital marketers used to grow their brand awareness online in 2020. Some of the top strategies we've found to be most effective include the following:
Staying active on social media channels where customers regularly spend time. This includes sharing relevant content and industry articles, responding to comments in a timely manner, and encouraging internal team members to contribute to the company's social presence as well.


Asking for reviews from current customers. When potential new leads see positive reviews for your digital marketing company, it gives them the impression that you are a reliable, trustworthy business to work with. Referrals are also an excellent way to spread brand awareness—and reviews certainly contribute to this.


Optimizing your website for search engines. Whether you're fixing broken links, adding relevant keywords, connecting pages via topic clusters, or updating meta descriptions, keeping up with SEO best practices is critical. After all, how else will potential new customers be able to find your website and learn about your brand online?


HubSpot's Inbound 2020 brought marketers together safely

HubSpot's annual Inbound conference was made into a digital-only event this year, though this certainly didn't make the event any less impactful. Inbound 2020 gave us a look at the many trends and strategies that are growing within the digital marketing industry. It also ensured that marketers could come together to share valuable ideas from the safety of their own homes. You can read about our experience at the event in this blog post, but here are a few notable highlights.
Email marketing has evolved with major changes to how marketers write and send emails to their contacts—especially when it comes to B2B marketing. Reblast dates, subject line lengths, and even exaggerated spelling has become far less restrictive in these past few months.


LinkedIn Sales Navigator is giving marketing teams more options for their social media marketing efforts, making it easier to engage with prospects online. This has become increasingly important during the shift to online-only marketing.



Surveys are now becoming a popular method for digital marketing companies. They can help determine if you are meeting client needs successfully, what improvements need to be made, and what factors set you apart from the competition.

After reflecting on this past year in digital marketing, is your company feeling confident in its 2021 strategy? If you're looking for additional insights from thinkdm2, please subscribe to our blog and follow us on LinkedIn for regular updates. Thinkdm2 is a B2B digital marketing and branding agency located in New Jersey. We provide marketing, branding, website, and design services for technology companies in industries such as SaaS, IoT, and Professional Services.