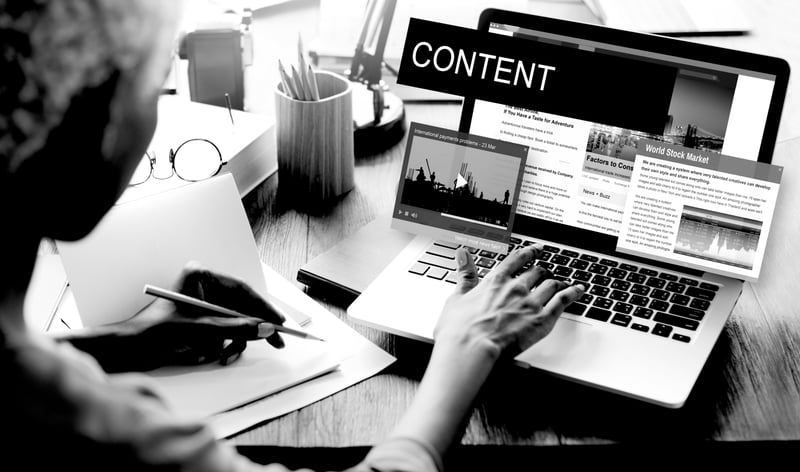 image credit: Rawpixel.com/shutterstock.com
Since the major update to search engine algorithms last year, marketers have had to make significant changes to their SEO strategies. Topic clusters and pillar pages are a marketer's new best friend when keeping content linked and up-to-date with SEO.
While keywords aren't completely gone, their relevancy in the modern content marketing landscape is dwindling. Here's why topic clusters and pillar pages have become essential for content marketing.
Topic clusters keep your content from getting lost in search engines
Adding links between your content creates a network of interlinked webpages that search engines will associate with one another. When a visitor navigates between links from your pillar page to your cluster content, it lets search engine bots understand that the pages are connected.
When creating your subtopics, think about content that's related to your pillar pages, even if it doesn't use the exact same phrasing. For example, if a user searches for "SEO strategies for blogging," they may find your published content for topics such as "using backlinks in content marketing" or "analyzing organic web traffic." These fall into the same SEO topic, without needing the same wording as the user's initial search.
Your content marketing strategy will be unstable without pillar pages
A pillar page is the metaphorical glue that holds your topic clusters and content together. It goes in-depth about a broad topic that your business specializes in. You can research topics in your industry through Google search trends or Moz, to see what's receiving high monthly search volume.

For a digital marketing business, this may include

Website optimization

Content development

Data analytics
If a pillar page is performing well, it can have the same effect on your clusters. This is why selecting the right pillar page matters just as much as adding clusters around it. The best pillar pages will be authoritative, generally around 5,000 or more words, and cover important keywords that are relevant to a central topic.

Topic clusters encourage you to use different themes in your blogs
Content marketers, take a look at your recently published blogs. Do you notice any trends with the titles of your posts? If you're seeing an abundance of the same "top 5 lists" or "best strategies," you may not be adding enough variety to your blog theme.

Using a variety of blog themes will prevent your blogs from only reaching a limited audience. This is where topic clusters will prove to be essential for your blogging. You can start by creating subtopics that support different themes, to eliminate repetition.
When writing content for search engine optimization, for instance, you can try using the following topics and blog themes:
"4 ways to optimize your website for search engines"

"Upcoming changes to search engine algorithms"

"Why your b2b website isn't as optimized as you think"

"What does search engine optimization mean for b2b?"
Thinkdm2 is a New Jersey digital marketing and branding agency that specializes in developing b2b content marketing strategies. Looking for SEO tactics for your content and web design? Download your free eBook to discover several SEO myths that may be keeping your b2b website from growing in 2018.