---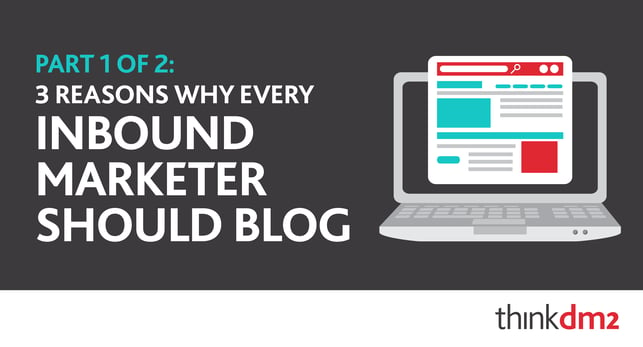 Since blogging has proven to be such a useful tool, we've decided to divide up everything we love about blogging into two parts.
As you may have guessed, we take blogging very seriously, which is why I am currently blogging about blogging inside of a blog post. Here are 3 reasons why every inbound marketer should tackle blogging in their everyday marketing efforts.

Search Engines and Blogging
When you're searching for ways to improve your inbound marketing strategies a common thread you will find is the importance of content. Creating content that is informative and helpful will help drive traffic to your website.
Blog posts are the perfect place to create content if you are looking to gain recognition from search engines. Posting blogs about your business along with industry related content helps search engines identify your website, which will help increase traffic.
Along with keeping your website relevant, the keywords and links used inside of your blogs will help your website and blog posts rank higher.
Blogging and Social Media
Social media is a marketer's best friend. It is a great way to publish content while keeping your brand fresh and up-to-date with industry trends.
When looking into your social media coordinator's daily routine, you'll notice that the material posted isn't always lead-generating content. This is where blogging is extremely effective. Using blogs in social media outlets can give your organization a chance to obtain leads, increase website traffic, and make contacts all at once.
Blogs can do all of these things as opposed to just publishing a status update because they contain CTAs, keywords, and links to optimize your website as well. When posting blogs on your social media accounts, you are educating your buyer personas just as much as the search engines.
Keywords and Blogging
Keywords are a huge part of any inbound marketing strategy. SEO/SXO focuses on how search engines pick-up on your website along with any material related to your brand. Blogging can be used to incorporate keywords in order to influence search engines to give you a higher website ranking.
Using related keywords (which means no "black hat" SEO) acts as a sufficient way for search engines to rank your blog as a popular search result as well. Using proper keywords inside of your blog posts can help improve your business's inbound marketing strategy.


Blogging is a great way to compliment your businesses' efforts to reach as many customers as possible. It adds flair to your social media posts and optimizes website efficiency. To see if your website is being optimized to its full potential, even after a few blogging attempts, request a FREE custom website marketing report card.